Reveca Torres, Founder and Executive Director, Backbones
Reveca Torres, Founder and Executive Director, Backbones

Communications

May 12, 2017

May 12, 2017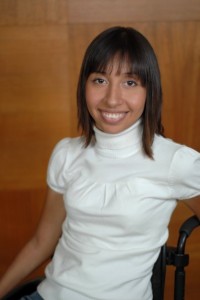 At the tender age of 13, Reveca (Becky) Torres was in an automobile accident and fractured her spinal cord, paralyzing her arms and legs. In 1999, unsure if she could physically pursue her dream career in fashion, she enrolled at Harper.
With a few adaptations, Torres became the first student using a wheelchair to complete the fashion design degree, earning her associate degree in 2002. She continued her education at the University of Arizona where she earned a bachelor's degree in theatre arts in 2004.
The Prospect Heights resident has gone on to use her artistic talent, coupled with her personal interest in supporting individuals with similar injuries, to find a way to help and empower others. In 2009, she founded Backbones, a nonprofit organization that provides one-to-one support for individuals with spinal cord injuries.
"I was at an event and spoke with other people with similar injuries, and I realized everyone was saying a lot of the same things," Torres said. "Once you go home from rehab, you lose all the support from doctors, physical therapists and other patients. It's easy to feel alone. I wanted to change that."
As founder and executive director of Backbones, Torres has touched many lives by providing a mechanism where individuals with spinal cord injuries can receive the support they need. She has worked with Shriners Hospital for Children, Mobility International USA (MIUSA) and the University of Illinois (UIC) at Chicago's National Center for Physical Activity and Disability (NCPAD). With their help, she has been able to provide resources on recreation, disability rights, college, travel, employment, and fitness to people with disabilities, specifically teenagers.
Highlighting her inspiring journey of accomplishments, Torres was recognized as the 2015 Person of the Year by New Mobility Magazine.
Torres is currently building a playbook of events such as adaptive yoga, art exhibits and fundraisers that a team of ambassadors can recreate throughout the country. Nominator Pascuala Herrera, a learning specialist at Harper, said can't think of anyone more deserving of becoming a Distinguished Alumni.
"Becky has touched many and indeed she is making a difference on the endless lives she touches," Herrera said. "She helps the community by inspiring people with disabilities to make the impossible possible."