Public Safety Dispatcher is Career-Ready
Public Safety Dispatcher Grad Is Career-Ready

Career and Technical Programs

July 25, 2016

July 25, 2016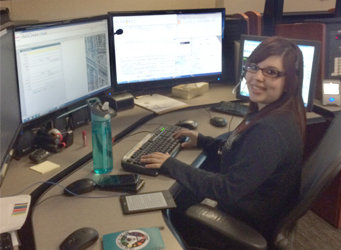 Alexandra Cardenas is a 911 Dispatcher for the Northwest Central Dispatch System. Alexandra graduated from the Harper College Public Safety Dispatch program in 2013. She shares her story:
I went into the Public Safety Dispatcher program at Harper College not knowing what to expect. I didn't have previous law enforcement or paramedic training and I hadn't even looked into being a 911 dispatcher before.
The program is great for someone, like me, with no experience because it outlines how the job works, gives you a background on how the police and fire departments work and is realistic about what characteristics you need to have in order to be a successful dispatcher.
Thanks to this program, I had certain advantages over other applicants entering this field. I left the program knowing what to expect when applying to dispatch centers. The Harper instructors helped me build my resume and I stood out from other applicants. I was able to put several NIMS certifications, usually necessary for centers I was applying to, on my resume, as well as the instructors' names as references, which helped break the ice in some face-to-face interviews. I was hired by Northwest Central Dispatch within a year of finishing the program. I believe I would not have gotten the job without this certificate. I recommend this program to anyone looking to go into the public safety dispatch field.