Focus and preparation help Harper grad succeed.
Focus and Preparation Help Harper Grad Succeed

Marketing Services

March 29, 2016

March 29, 2016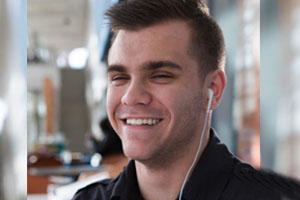 Imagine this schedule: You attend classes full time in Northern Illinois University's Electrical Engineering program in DeKalb, work 36+ hours a week in Palatine and take a required calculus class at Harper College.
For Erich Wenzel this is reality as he pursues both his career and bachelor's degree after completing an Associate of Applied Science Degree in Electronics Engineering Technology at Harper in 2014.
Wenzel's path to high-achieving student and electronics engineering professional began at Conant High School where he participated in the STEM-focused Project Lead the Way and researched area colleges.
"I chose Harper because I wanted to study engineering while earning a degree that I could put to work right away," Wenzel says. "I also wanted to stay close to home and I needed to work full time."
Wenzel took a year off between graduating Conant and enrolling at Harper, but that was all part of his plan.
"That first year after high school taught me how the world works. I started as an entry-level Walmart associate. I learned how to run the register, stock shelves and unload the trucks. Eventually I moved to produce. Then I'd be in the store at 5 a.m., unloading and organizing the deliveries," he says. "My goal was to earn money for my education and make sure I went back to school."
When Wenzel did start college, applying this work ethic to his studies immediately launched him in the right direction.
"My grades weren't always the best in high school. But in my first few semesters at Harper, I earned solid 4.0s. College is self-driven and self-managed and I work well in that environment," he says.
Wenzel also liked the practical aspects of his coursework. "Labs are my favorite part. I love working with my hands. I love seeing how things are done on a whiteboard and then transferring those to practical experience."

"Erich Wenzel was an exemplary electrical engineering student," says George Hoeltje, associate professor and Electronics Engineering Technology program coordinator. "I placed him as a part-time technician through my connections at Trace Labs (now NTS) a few years ago. He subsequently moved up to a full-time project manager position and is finishing his BS degree in electrical engineering technology at Northern Illinois University with NTS paying his tuition. Over half my AAS students transfer to four-year engineering or industrial technology institutions, and without question Eric Wenzel is one of the best."

Hoeltje adds that NTS has been an integral member of Harper's ELT Advisory Board since he came to Harper in 2000. "I've probably placed over 50 students (at NTS) mostly as part-time employees," Hoeltje adds.
"Professor Hoeltje and the other professors motivated me to learn independently, collaborate with my peers, and solve problems," Wenzel says "It was very much like an actual work environment."
At Hoeltje's invitation Wenzel recently joined the program's advisory committee, providing his perspective as a recent grad and young professional alongside representatives from Northrop Grumman, Motorola and other area companies.
Giving back is a big part of Wenzel's DNA. At Harper he routinely helped classmates get up to speed on projects and assignments and this has continued at NIU.
"When I help people, I learn too," Wenzel says.
And he's not shy about advising people who are considering college to check out Harper first. "You save yourself a lot of money and the time and turmoil of changing your major and transferring back."
Learn more about Harper College's Electronics Engineering Program.