Jenni's Persistence Pays Off
Persistence Pays Off

Marketing Services

September 14, 2015

September 14, 2015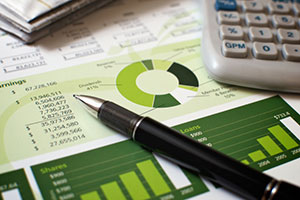 Jenni Huber has a goal in mind – earn her associate of applied science (AAS) degree in accounting. But along the way, she's taking advantage of every opportunity her program of study presents, while discovering that persistence pays off.
"The education I'm receiving at Harper definitely opens more doors than I expected," she said. "Earning the advanced bookkeeping and accounting assistant certificates as part of my degree program allowed me to set short-term goals. I don't have to worry about the big picture, just baby steps."
Huber started her accounting career 20 years ago at a family owned company. "I worked for a smart business man who encouraged me to seek my accounting degree, however I was not confident I could do well. I had young children at the time and was more concerned about taking care of them, so I took one accounting class at Harper, primarily to get a better understanding of the principles."
After an ownership transition at the company, Huber decided it was time for a change, but found her options limited because she did not have more formal education in the field.
"My husband started a small general contracting company. I did his books at home, but felt I was capable of making a contribution in an accounting department of a larger company," she said. "I decided since I had flexibility in my schedule, I would take some accounting classes to see of I wanted to commit to accounting as a career."
Huber first enrolled in managerial accounting, but found that she "didn't click" with the course content. "I realized the concepts were not as easy as thought, but I wanted the prerequisite to take tax accounting and advanced tax accounting."
After completing the course, she enrolled in the tax accounting class, but again found some of the concepts difficult to grasp.
"I was worried I might not be able to keep up. Most of the students had more impressive educational backgrounds, bachelor's and masters degrees in areas such as finance. The majority of them were in the program to prepare for the Certified Public Accountant (CPA) exam," Huber said. "Then I noticed shortly after the semester started that they were struggling too, so I decided to seek assistance in the Tutoring Center.
Huber credits the center and specifically accounting tutor Mike Thiry for helping her get on track. "He explained things in a way I could understand and more importantly he gave me confidence."
"I really liked (accounting faculty member) Arnold Jansen and made the decision to take advanced tax accounting because of him. I found this class easier, not because of the content, but because I was familiar with his teaching style."
Huber also enjoyed the cost accounting taught by faculty member Lisa Penz.
"She's a tough teacher, but she makes accounting fun. The content in this class is what I use most in my current position," Huber said. "She was my first female teacher and very inspirational. She is a good role model for women."
Though just shy of finishing her degree, the skills, knowledge and certifications Huber earned have led to new opportunities.
"I recently took a position as a staff accountant for a general contracting company where there is room for growth," she said. "The CFO has allowed me to participate in multiple areas such as payroll, billing, cost analysis, accounts receivable and preparing financial statements."
While happy in her new position, in true persistence fashion, Huber is looking forward to completing her AAS degree.
"I am happy with the choice I made to attend Harper," she said. "I have not completed my degree yet. I have three classes left and I will have to take one at a time because I recently started this new job, but I definitely plan on finishing, hopefully by the fall of 2016."