Violinist Edgar Gabriel to put on concert
Violinist Edgar Gabriel to put on concert

Harper College News Bureau

January 1, 2017

January 1, 2017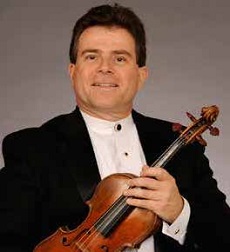 Violinist Edgar Gabriel will perform a concert at 7:30 p.m. Friday, January 13, as part of Harper College's ongoing Faculty Artist Series.
Gabriel, a former Cirque du Soleil electric violinist, has appeared with Stringfusion, Mannheim Steamroller, Chicago Opera and the Steppenwolf Theatre Company. He fuses music from the genres of classical, jazz, rock and fiddle.
The concert will take place in the Performing Arts Center on the College's main campus, 1200 W. Algonquin Road, Palatine.
Admission is $10 to $15. Children 12 and under can attend for free.
For tickets, visit the Harper College Box Office, 847.925.6100 or visit harpercollege.edu/boxoffice.