Uganda-based Ndere Troupe to put on free performance
Uganda-based Ndere Troupe to put on free performance

Harper College News Bureau

February 14, 2017

February 14, 2017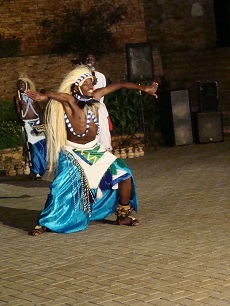 Africa's rich cultural history and traditions have long been passed on through music, dance, storytelling and poetry. Harper College will celebrate Black History Month with the Uganda-based Ndere Troupe as they perform authentic Ugandan dances and songs accompanied by indigenous percussive, stringed and wind instruments.
The award-winning performance ensemble will put on a free show at 6 p.m. Saturday, February 25, in J Theatre located on the College's main campus, Building J, 1200 W. Algonquin Road in Palatine.
Ndere has been gracing stages for nearly 25 years, garnering worldwide appreciation. The group also works to educate young people about life skills and current issues such as modern farming techniques and HIV/AIDS.
Troupe members will also visit Harper classes to discuss their work in Uganda and abroad.
Ndere's visit is part of Harper's larger commitment to internationalizing its curriculum and globalizing its students' educational experiences. Fulbright Scholar-in-Residence Jimrex Byamugisha spent the fall 2015 semester at Harper giving lectures and meeting with organizations to expose students to an African perspective on a number of issues such as business in a global market and education.
To learn more about Ndere, visit ndere.com. Admission to the performance is free. Contact the Harper College Box Office for more information at 847.925.6100 or harpercollege.edu/boxoffice.
Media contact:Kim Pohl, Media Relations Manager, 847.925.6159