Alum makes Harper directorial debut
Alum makes Harper directorial debut

Harper College News Bureau

February 28, 2017

February 28, 2017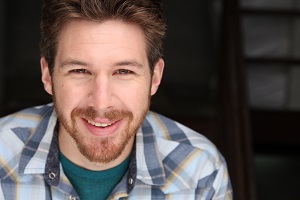 Cale Haupert's very first audition as a Harper College student was in some ways quite formative. The play was "All My Sons" by Arthur Miller, and he didn't land a part.
The outcome was disappointing, but he emerged from the experience with two big takeaways. First was a determination to succeed in the theater world. Second was a desire to learn a bit more about one of his fellow auditioning students.
The result? Not only did Haupert go on to be cast in four consecutive Harper shows, he and the student – Harper alum Kimberly Wiczer – eventually married.
Now things are really coming full circle for Haupert, who will direct Harper's upcoming production of "Picnic," playing March 10-19 at the Performing Arts Center. Wiczer will serve as assistant director.
"It's good to be back," Haupert said. "It feels like home, like it's a natural progression in my career. I will say it was weird getting a set of keys to the theater, though."
"Picnic," a Pulitzer Prize-winning play by William Inge, is set in 1953 in a small Kansas town where tradition both reigns and represses. As a group of women prepare for the annual Labor Day picnic, a handsome drifter named Hal arrives. Nearly irresistible, he sends a widow's daughters reeling and vying for his attention.
Passionate and delightfully funny, "Picnic" explores loves and morality, restraint and desire, and society's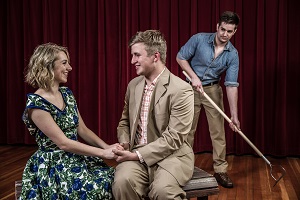 never-ending preoccupation with beauty.
"It's a coming-of-age story in which young people are figuring out their way in the world," Haupert said. "We're all imperfect people filled with contractions. The play captures that."
Haupert, who graduated with an Associate of Arts degree in 2006, said his time at Harper helped instill discipline as an actor and confidence in his abilities. He points to influences including Professor Laura Pulio Colbert, Harper's Director of Theatre, and former adjunct faculty member John Loprieno, a Harper alum known for his 13-year run on "One Life to Live."
Haupert went on to earn a bachelor's degree from Saint Louis University and a Master of Fine Arts degree in acting from the Florida State University/Asolo Conservatory. He currently teaches speech and acting at Harper and helps coach the speech team at his alma mater, Hoffman Estates High School.
"Picnic" will run Friday, March 10, through Sunday, March 19, in the Performing Arts Center on the College's main campus, 1200 W. Algonquin Road in Palatine. Performances are held at 8 p.m. Fridays and Saturdays and at 2 p.m. Sundays.
Tickets are $12 to $15. Contact the Harper College Box Office at 847.925.6100 or harpercollege.edu/boxoffice.
Media contact:Kim Pohl, Media Relations Manager, 847.925.6159