Partners gather to officially kick off Building M renovation
Partners gather to officially kick off Building M renovation

Harper College News Bureau

April 10, 2017

April 10, 2017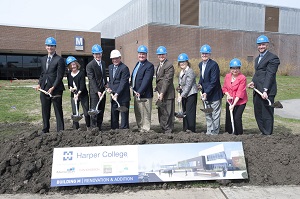 Harper College held a groundbreaking ceremony officially kicking off the transformation of its Wellness and Sports Center (Building M) into a leading community health and recreation center.
The $38 million renovation of the outdated, 38-year-old facility is the result of a partnership with the Palatine Park District and Northwest Community Healthcare. It's expected to reopen for the fall 2018 semester.
"We're going from a building that our students described as the loneliest building on campus to one, we believe over the next two years, will be one of the most highly trafficked and engaged buildings on our campus," Harper College President Dr. Ken Ender said.
Under the partnerships, the park district will contribute $9 million toward the renovation, pay a share of the building's operating costs, operate the indoor pool and provide adult fitness and recreation programs. Executive Director Mike Clark noted the park district's most recent community-wide needs assessment, in which residents said their top priorities were an indoor aquatics facility, a fitness center and space for group fitness.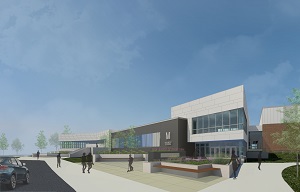 "With this one facility, we hit the trifecta," Clark said, adding that the park district is "thrilled, honored and privileged to be part of this great partnership."
Northwest Community Healthcare will lease 10,000 square feet of space to provide a variety of health care services to students, staff and the community. CEO Stephen Scogna said he's excited about expanding into the educational arena, and that it's rare to be able to tell his board of trustees about an opportunity that so greatly benefits everyone involved.
"This one really was a no-brainer," Scogna said. "It was just perfect for everyone."
Student athlete Zach Daniels, a pitcher on the Harper baseball team and a new member of the Phi Theta Kappa honor society, was a regular at Building M before it closed for the renovation. He discussed the positive impact that an improved facility will have on both individual student success and team camaraderie.
Dr. Ender applauded all parties for their innovation and willingness to pool resources. He believes the Building M partnership will serve as a new model for local government.
"At the end of the day, what we have created together is something we never could have done by ourselves," Dr. Ender said. "We're showing our educational community and the taxpayers what the future of public institutions looks like, not only in this district and state, but across the country."
Media contact:Kim Pohl, Media Relations Manager, 847.925.6159