Harper recognizes Barrington Bank and Trust for employing alumni
Harper recognizes Barrington Bank and Trust for employing alumni

Harper College News Bureau

April 17, 2017

April 17, 2017
Harper College alumni are making their mark on Barrington Bank and Trust Company.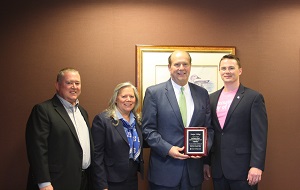 Chief Executive Officer Brad Stetson estimates 20 percent of the company's workforce has attended Harper at some point – either to earn a degree or certificate or to advance skills through continuing education courses.
"What Harper brings to the area is something that's very important,not only for kids coming out of high school, but for people our age who have the opportunity to advance their skills," Stetson said. "It's a great college and I'm excited we're part of it."
The Harper College Educational Foundation recently recognized many of those alumni during a reception through its Stand Up and Be Counted program, an initiative that celebrates employers throughout the community that hire Harper alumni. Barrington Bank and Trust operates seven locations throughout Barrington, Hanover Park, Hoffman Estates and Palatine.
Among the group was Char Neault, a Harper alumna and Barrington Bank and Trust's senior vice president of commercial lending. She was a working mother of two when she came to Harper for a certificate in banking, finance and credit. Though it's been more than 20 years, she vividly remembers certain classes and still refers regularly to her principles of business law textbook.
Neault also credits the speech course she took at Harper with helping her develop the art of public speaking; those skills have proven invaluable in her various roles including past chair of the Barrington Area Chamber of Commerce. She also recently taught a class for Harper's One Million Degrees program for low-income students.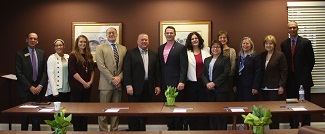 "I absolutely believe that my certificate program played a part in the advancement of my career," Neault said.
Peter Santangelo, president of Community Advantage (a fellow Wintrust Company), agreed. He was working as a teller when he came to Harper in 1979. After graduating with an associate degree and transferring to Elmhurst College, Santangelo went on climb the banking ranks and has served on numerous industry boards.
"When I graduated from high school, I really didn't know what I wanted to do," he said. "Harper's program really gave me the guidance I needed."
Other employers honored by Harper's Stand Up and Be Counted corporate recognition program include Weber-Stephen Products, BMO Harris and AMITA Health/Alexian Brothers Health System.
Media contact:Kim Pohl, Media Relations Manager, 847.925.6159