Harper partners with neighboring St. John to put on Pulitzer Prize-winning "Doubt"
Harper partners with neighboring St. John to put on Pulitzer Prize-winning "Doubt"

Harper College News Bureau

April 17, 2017

April 17, 2017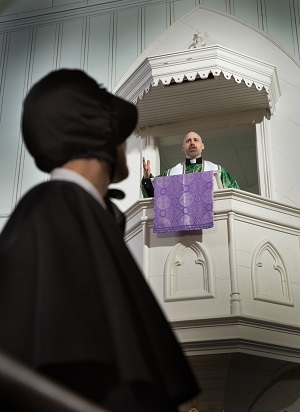 A theater production's set design can help the audience embark on a journey before a single word of dialogue is spoken. The Harper Ensemble Theatre's upcoming production of "Doubt: A Parable" is bound to accomplish just that.
With John Patrick Shanley's Pulitzer Prize- and Tony Award-winning play set in a Catholic church and school, Director Kevin Long opted to venture across the street from Harper's campus and put on performances in the picturesque St. John United Church of Christ, which dates back to the 1800s.
Long is grateful to the St. John community for being so accommodating and willing to partner.
"Performing the play in a church heightens everything about the play," said Long, who is also serving as the production's organist. "I think our audience will truly feel the weight, stakes and importance of this play in a much stronger and visceral way by witnessing this play performed in a church."
"Doubt: A Parable" runs Friday, April 21, through Sunday, April 30.
Set amidst the turbulence of the 1960s, Shanley's play focuses on a Bronx Catholic school where Principal Sister Aloysius is old-fashioned, stoic and severe, while parish priest Father Flynn is progressive and popular. When she suspects him of wrongdoing with a troubled student, their clash of authority, tradition and faith threatens irrevocable consequences.
"Doubt: A Parable" stars Alice Pisani Brown as Sister Aloysius Beauvier; Christian Colucci as Father Brendan Flynn; Cynthia Hines as Mrs. Muller; and Kate Vargulich as Sister James.
Though set decades ago, Long said the play resonates in a contemporary way.
"In writing a short play without a clear conclusion or solution, Shanley wants us to see the value of doubt," Long said. "It is our responsibility as people to doubt and question our leaders, our faith and our beliefs. It may be uncomfortable; however, it's an essential part of a strong, reasoning society."
Performances begin at 8 p.m. Fridays and Saturdays and at 2 p.m. Sundays. Tickets are $12 for seniors and Harper College students and staff, and $15 for general admission. St. John United Church of Christ is located at 1475 W. Algonquin Road in Palatine, across the street from Harper College's main campus.
The community is invited to stop by at 1 p.m. before the Sunday performances to enjoy complimentary coffee and a pre-show conversation with Long and dramaturg Kurt Hemmer.

The ensemble and St. John will also hold a food drive in concert with the performances. Please bring a canned or non-perishable food item for donation to the Palatine Food Bank.
For tickets, contact the Harper College Box Office at 847.925.6100 or harpercollege.edu/boxoffice.
Media contact:Kim Pohl, Media Relations Manager, 847.925.6159