Harper receives $50,000 endowment, dedicates CNC lab
Harper receives $50,000 endowment, dedicates CNC lab

Harper College News Bureau

May 23, 2017

May 23, 2017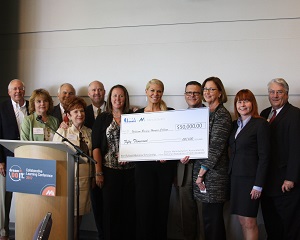 The National Association of Manufacturers (NAM) and the Illinois Manufacturers' Association (IMA) have awarded a joint $50,000 endowment to fund Harper College scholarships in memory of manufacturing leader Ron Bullock, former CEO of Bison Gear and a former NAM and IMA board member. The NAM and IMA presented its joint check during a special ceremony with organization leadership and members of the Bullock family, prior to the dedication of Harper College's state-of-the-art Computer Numerical Control (CNC) lab in Bullock's memory. The endowment will be designated for students studying advanced manufacturing.
"It's fitting that Harper College's CNC lab will carry the name of an industry leader who knew the importance of inspiring manufacturing's next generation of workers," Harper College President Dr. Ken Ender said. "This generous endowment is an investment in student success, and it demonstrates our partners' ongoing commitment to working together to solve the shortage of skilled workers."
In life, Ron Bullock tirelessly worked to engage the next generation of students in STEM careers. He was a lifelong proponent of American manufacturing, a supporter of the educational system, and was committed to community service. Bullock established a scholarship program to aid college-bound children of Bison employees and led the IMA's Education Foundation to fund scholarships and training programs for manufacturing careers in Illinois.
"Ron was unique in respect to his interest in education and passion about readjusting the education system in the U.S. to have a more qualified workforce," said Greg Baise, president of the Illinois Manufacturers' Association, where Mr. Bullock served as chairman in 2008 and 2009. "He was dedicated to building a prepared pipeline of workers to lead the manufacturing industry into the future - and this endowment will ensure his legacy for generations to come."
Bullock became a board member of the National Association of Manufacturers in 2001. He also served a term as a chairman of the association's Manufacturing Institute, where he helped launch an industry-recognized certification program to ensure students completing school training programs were equipped with skills needed to transition immediately into the workforce.
"I was proud to work alongside Ron at the NAM for many years in our efforts to strengthen the manufacturing workforce. Ron gave generously of his time and energy to work selflessly to expand opportunity for all, and I know many lives have been changed for the better in Illinois and across the country, thanks to his support of our industry and his community," said NAM President and CEO Jay Timmons. "This endowment and dedication in Ron's honor will continue his legacy for generations to come."
The check presentation and CNC lab dedication ceremony coincided with the national Dream It. Do It. annual meeting at Harper College taking place May 22-24. Bullock was a long-time supporter of the The Manufacturing Institute's Dream It. Do It. program, which works to change the perception of the manufacturing industry and inspire next-generation workers to pursue manufacturing careers. The initiative offers local manufacturers, schools, community-based organizations and other stakeholders the opportunity to partner with a respected national platform to promote manufacturing as a top-tier career choice in the United States.