Graduates overcome adversity to earn High School Equivalency diplomas
Graduates overcome adversity to earn High School Equivalency diplomas

Harper College News Bureau

June 22, 2017

June 22, 2017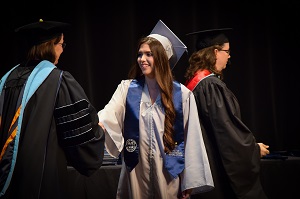 Gabriela Sanchez was a focused and driven high-honors high school sophomore when her world came crashing down.
Her father was diagnosed with Huntington's disease, a fatal genetic disorder that causes the progressive breakdown of nerve cells in the brain. Sanchez left Palatine High School to be home-schooled and care for her dad, but she stopped school all together a couple months into her junior year.
Six years later, Sanchez, now 22, finally earned the right to walk across the stage and receive her diploma at Harper College's High School Equivalency graduation ceremony on June 16. She also served as one of the evening's student speakers, addressing many of the nearly 90 graduates in this year's class of graduates.
"I'm embracing this for the huge accomplishment that it is," Sanchez said. "This was a big step in all of our lives, and I'm just so hopeful and optimistic about the path I'm on."
Sanchez, whose dad died in fall 2014, hesitated for two years before signing up for Harper's free High School Equivalency (formerly the GED) preparation classes.
"I drove by campus time and time again, but I was afraid at how big and intimidating everything seemed," she said. "In the end I knew I needed to continue my education, and I had such a thirst for knowledge and to interact with people again. It was time."
In January, Sanchez began eight-week classes in math, social science/science and language arts. Not only did she pass each section of the High School Equivalency exam on her first attempt, she earned Harper's HSE Distinguished Scholar Award, which will cover the cost of tuition for up to 30 credit hours.
Sanchez plans to complete her pre-requisite courses and apply to Harper's nursing program. Ultimately, she wants to become a nurse practitioner, a goal she said stems from the four years she spent as her dad's caregiver.
Sanchez also is passing along her experience through her work as a student aide in adult education development. She's always sure to talk about the supportive learning environment and the faculty and staff who ensure everyone feels valued.
When asked about what she tells prospective students contemplating going for their High School Equivalency, Sanchez immediately points to her favorite quote from the Disney movie "Mulan."
"It says, 'The flower that blooms in adversity is the rarest and most beautiful of all,'" she said. "I really feel that applies to so many of us."
For more information about Harper's High School Equivalency prep classes, visit harpercollege.edu.