Free Movie Friday: Outdoor screening of "Guardians of the Galaxy Vol. 2"
Free Movie Friday: Outdoor screening of "Guardians of the Galaxy Vol. 2"

Harper College News Bureau

August 10, 2017

August 10, 2017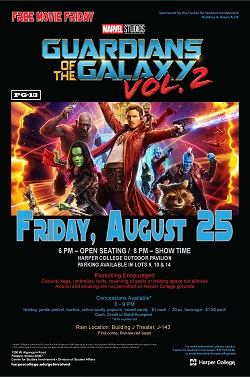 Harper College will host an outdoor movie screening of Marvel's Guardians of the Galaxy Vol. 2 (PG-13) on Friday, August 25.
The Free Movie Friday will take place at the Outdoor Pavilion on the College's main campus, 1200 W. Algonquin Road in Palatine.
Open seating begins at 6 p.m. followed by the movie at 8 p.m. Parking is available in lots 9, 10 and 14.
Picnicking is encouraged and concessions are available for purchase. Coolers, tents and reserving of spots are not permitted.
In case of rain, the movie will be shown in the Building J Theater. Seating is on a first-come, first-served basis.
For more information including a complete list of available concessions or prohibited items, call 847.925.6242.