Artists from across the country featured in 40th Small Works exhibition
Artists from across the country featured in 40th Small Works exhibition

Harper College News Bureau

August 31, 2017

August 31, 2017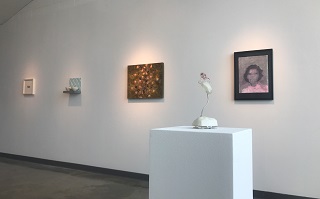 Harper College is highlighting the small-scale work of artists from across the country at its 40th annual Small Works exhibition.
National Juried Exhibition: Small Works runs through Thursday, September 29, at Harper's Art Exhibition Space, Building C, Room C200, on the College's main campus, 1200 W. Algonquin Road in Palatine.
"Juried shows are a long tradition, and there are not many that run this many consecutive years," said art Professor Jason Peot. "For its longevity and quality, Harper's exhibition is fairly significant."
Patrons can view the work and read statements from 22 artists. Work represents a range of media including drawings, paintings, prints and sculpture. This year's Small Works exhibition received nearly 600 entries.
"The community gets a little sampling of what's happening all around the country," Peot said. "The show is nicely different that way every year. We always have a really good mix of artists."
This year's exhibition was juried by Mark Rospenda, curator of exhibitions and collections at the South Bend Museum of Art. Since joining the curatorial staff in 2010, he has organized and overseen more than 40 exhibitions.
Rospenda said he made selections based on what he believed to be the strongest work submitted, rather than a specific theme or focus.
"The best artworks can help us see our world in new ways, and – as the artworks in this exhibition prove – size is no obstacle to artistic innovation," Rospenda said.
The exhibition is free and open to the community. Hours are 9 a.m. to 4 p.m. Monday through Thursday.
For more information, visit harpercollege.edu/smallworks or contact the Art Department at 847.925.6568.