Harper to hold annual Fall Open House
Harper to hold annual Fall Open House

Harper College News Bureau

October 3, 2017

October 3, 2017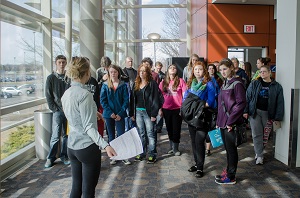 Harper College will hold its annual fall Open House, offering prospective students and families the opportunity to discover how they can move their future forward.
The event, which is for high school students and parents, will take place from 5 to 7:30 p.m. Thursday, Oct. 12, at the Wojcik Conference Center on the College's main campus, 1200 W. Algonquin Road in Palatine.
Attendees will learn about Harper's academic, career and student support services; get an overview of admissions and financial aid; meet with faculty; discover the new University Center and learn the ABCs of choosing a major.
Robert Parzy, Director of Admissions and Outreach answered a few questions about the upcoming event.
Q: What can I expect from the Fall Open House at Harper College?
A: This evening is a chance for future students to meet with Harper faculty and staff to learn more about the college and why starting at Harper aligns with their goals. Students can also learn about unique educational options such as the University of Illinois at Urbana-Champaign Engineering Pathways program, and the apprenticeship program.
Q: Should I attend the Fall Open House if I want to go to a different college or university other than Harper College?
A: Absolutely! There are many sessions about financing your college, choosing the right career, as well as tips for parents about college. We would love for students to attend Harper College but it is most important that they go to college and learn about valuable college resources.
Q: Should I attend the Fall Open House if I am a high school student interested in starting my career right after high school graduation?
A: Yes! Many students can find employment after high school, but long-term career sustainability requires postsecondary credentials. By attending the open house, students can speak with many faculty and staff about this subject and why earning a credential is essential.
In addition, the Open House will feature breakout sessions for parents and student-led campus tours.
Convenient parking is located in lot 14.
To RSVP, visit the Get Started: High School page or call 847.925.6700.