Harper presents 50th anniversary production of "Hair"
Harper presents 50th anniversary production of "Hair"

Harper College News Bureau

November 1, 2017

November 1, 2017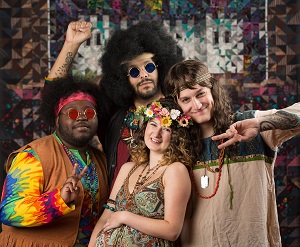 The same year that Harper College first opened its doors – in temporary quarters at Elk Grove High School, no less – "Hair" debuted in New York's East Village amid much controversy.
It was 1967, and writers James Rado and Gerome Ragni were two hippie dreamers, influenced by the Summer of Love movement. They wrote about what they knew, and they knew about sex, drugs and the meditative ideology they employed to seek nirvana.
The Northwest suburbs were in many ways removed from the hippie counterculture embraced by Haight-Ashbury, the East Village and other neighborhoods. Still, some themes such as racial tensions, environmental issues and war are universal themes regardless of time or place.
"We wanted to do something we could tie into the 50th anniversary of Harper College, and this seemed like a natural to me since 'Hair' is also celebrating its 50th anniversary," said Director Laura Pulio Colbert said. "It's a fascinating exploration of where we were in this country in 1967 when Harper was founded."
The Harper Ensemble Theatre Company will present "Hair," the original American Tribal Love Rock Musical, from November 10 through November 19 at the Performing Arts Center on the College's main campus, 1200 W. Algonquin Road in Palatine.
"Hair" tells the story of the "tribe," a group of politically active, long-haired hippies of the "Age of Aquarius" living a bohemian life in New York City and fighting against conscription into the Vietnam War. Winner of the 2009 Tony Award for Best Revival of a Musical, "Hair" carries the same funk/rock sound that conquered the world of popular music 50 years ago. With explosive and revolutionary proclamations of profanity and hard rock, it shook the musical theatre to its roots.
Performances take place at 8 p.m. Fridays and Saturdays (November 10, 11, 17 and 18) and at 2 p.m. Sundays (November 12 and 19).
"Hair" is intended for adult audiences. It contains strong language, adult situations and partial nudity.
Tickets are $15 for seniors and Harper students, faculty and staff; general admission is $18. For tickets, contact the Harper College Box Office at 847.925.6100 or visit harpercollege.edu/boxoffice.