Building D to be named Duchossois Family Educational Center
Building D to be named Duchossois Family Educational Center

Harper College News Bureau

November 16, 2017

November 16, 2017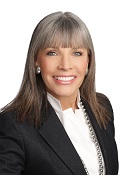 Kim Duchossois believes in the power of lifelong learning.
Whether helping to cultivate someone's entrepreneurial spirit – a value embodied by her enterprising family – or working on her own development, Duchossois is a proponent of personal and professional growth.
And Harper College, she maintains, is a place where that growth can flourish.
"Harper helps empower people to elevate their socioeconomic status, their productivity and their overall well-being," Duchossois said. "I firmly believe that."
Over the past few years, Duchossois has become a valued donor to the College and an ambassador on behalf of Harper's work. To recognize her generous support, which cumulatively totals more than $1 million, Building D will be known as the Duchossois Family Educational Center.
The Harper College Board of Trustees unanimously approved the recommendation at its November board meeting.
"The generous support Kim Duchossois has demonstrated will have a long-lasting impact on Harper College's ability to increase access to quality, affordable education that improves lives and helps build a vibrant community for residents and businesses," said Vice President and Chief Advancement Officer Laura Brown.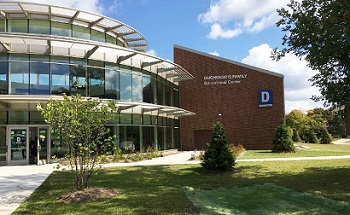 One of Harper's original six buildings, Building D reopened last year after a renovation transformed the 1969-era structure into a state-of-the-art learning environment. It houses general classrooms, lecture halls, the temporary library and labs for English as a Second Language, World Languages and American Sign Language. Its centerpiece is the popular Beaubien Family Rotunda, which creates an inviting place for students to meet and study.
Duchossois, a Barrington-area philanthropist and chairman of The Duchossois Family Foundation, has been instrumental in providing funding for Harper's Angel Grant program, which helps both students and community members advance their emerging and active businesses. She was inspired to get involved with Harper's entrepreneurship program by the pioneering business incubator curriculum that Barrington High School rolled out several years ago.
"Entrepreneurship programs help build confidence, they help develop executive function and they build leadership," Duchossois said. "They can be an incredible boost to our economy."
In learning about Harper, she also came to support the Harper College Promise Scholarship Program, which provides students in Districts 211, 214 and 220 with two years of tuition at Harper – if they're willing to earn it.
Duchossois said she was "blindsided" by the idea of having a building named after her family, but sees it as "a tremendous honor and something to be proud of."
"Harper is an invaluable asset to the community, and I believe there's never been a more critical time to utilize its potential," she said. "If we can serve as an endorsement for all the wonderful things happening, then I'm on board with that."