Harper Symphony Orchestra to perform holiday classics
Harper Symphony Orchestra to perform holiday classics

Harper College News Bureau

November 30, 2017

November 30, 2017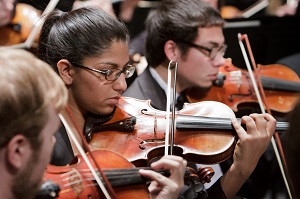 The Harper Symphony Orchestra will perform a variety of holiday classics during its winter concert, "A Joyful Celebration," at 3 p.m. Sunday, Dec. 10, at the Performing Arts Center on Harper College's main campus, 1200 W. Algonquin Road in Palatine.
Led by Conductor William Anthony Porter, the Harper Symphony Orchestra will perform selections from Bizet's "L'Arlesienne" Suite No. 1 and 2, Tchaikovsky's "Nutcracker Suite," Handel's "Joy to the World!" and other pieces.
The Harper Symphony Orchestra is comprised of more than 75 professional, community and college musicians.
Since Porter began his tenure at Harper in 1994, he has served the College as cello instructor, chamber music coach and cello ensemble director. He was the principal cellist for the Harper Symphony Orchestra until his recent appointment as the group's conductor.
Porter is also on the faculty of the Music Institute of Chicago, Activator Music Academy and Blue Lake Fine Arts Camp. Through the auspices of the Blue Lake International Program, he has conducted numerous tours throughout Europe. Locally, Porter is assistant conductor of the critically acclaimed Chicago Modern Orchestra Project.
Tickets to the Harper Symphony Orchestra performance are $10 to $15; children 12 and under are admitted for free. Contact the Harper College Box Office at 847.925.6100 or harpercollege.edu/boxoffice.