New Fast Track graduate describes his "life-changing" experience
New Fast Track graduate describes his "life-changing" experience

Harper College News Bureau

December 13, 2017

December 13, 2017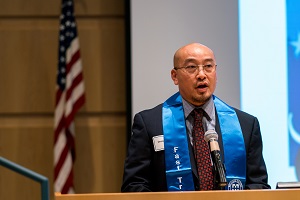 At his previous manufacturing job, Drew Kong often felt stressed and frustrated at his inability to make an impact on his company's culture – despite his best efforts. Feeling stuck, he decided to fulfill a promise he had made to his parents to go back to college and better himself.
He made his way to Harper College's Fast Track program. A little more than a year later, Kong finds himself with four supply chain management certificates under his belt and a position at leading global security company Northrop Grumman.
"Now, I enjoy going to work every day because the culture there is awesome," Kong said.
Kong recently addressed 90 of his fellow Fast Track classmates at their graduation ceremony. The group collectively earned a total of 103 credentials.
The accelerated, part-time program is designed specifically for busy adults looking to succeed in today's competitive employment market by continuing their education. Graduates earned degrees and certificates in a variety of fields including business management, human resource management, health information technology medical coding, logistics, procurement and supply chain management.
Also remarkable is the continued high achievement shown by the Fast Track students. High GPAs led to 48 percent of graduates earning a spot on the Dean's List (3.5 GPA and higher) and 23 percent on the President's List (3.75 GPA and higher).
For Kong, his Harper experience also led to an internship opportunity with Northrop Grumman and eventually a full-time position. He called Fast Track "life-changing" and said it has given him more confidence in himself and more focus as a student. He'll continue working toward an associate degree in advanced manufacturing and plans to earn his bachelor's degree.
"I believe we all chose to take this step because we wanted to better ourselves and strategically put ourselves in a better position to be better candidates to be in higher demand for potential employers," he said.
For more information on Fast Track, visit harpercollege.edu.