Harper sweeps cupcake competition
Harper sweeps cupcake competition

Harper College News Bureau

April 27, 2018

April 27, 2018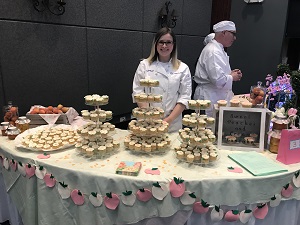 Harper College hospitality management students make a tasty cupcake.
Emily Reddy of Schaumburg and Ed Dolik of Arlington Heights finished first and second, respectively, in a head-to-head cupcake showdown against Elgin Community College at the 2018 Bon Appetit Community Food and Drink Festival in Hoffman Estates.
Reddy was awarded a $1,000 scholarship and a commercial grade Kitchen Aid mixer, while runner-up Dolik netted a $500 scholarship.
"They really did a phenomenal job with both their cupcakes and the display," instructor Pili Rios said.
Sponsored by Splenda maker Tate & Lyle, contest rules called for bakers to use the sugar substitute in their spring-themed concoctions.
Reddy, 18, made a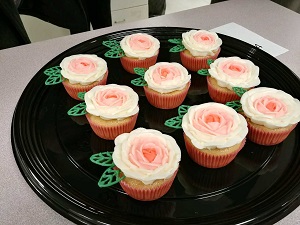 sweet peaches and cream cupcake as a nod to Georgia, her home state. The peaches were grown in her backyard and canned by her mother. The delectable treat, which featured carefully piped flowers, resulted in Stonegate Conference and Banquet Centre's head chef discussing a possible job for Reddy as assistant pastry chef.
"I was absolutely amazed that I won, and it was great to see all my hard work pay off," Reddy said. "This is the career I want to go into, so it's been an incredible experience."
Dolik opted for a raspberry pink lemonade cupcake. Contestants all made 300 mini cupcakes for the guests in total.
This was the sixth cupcake competition between the two schools.
Harper's Hospitality Management program consists of a food service operations management degree and hotel operations management degree. Certificates are offered in bread and pastry arts, culinary arts, food service management and hotel management.
Students also gain experience at The Dining Room at Harper College, a student-run restaurant where they prepare and serve lunch.
For more information, visit harpercollege.edu.