Harper names surgical technology suite after longtime supporters
Harper names surgical technology suite after longtime supporters

Harper College News Bureau

May 9, 2018

May 9, 2018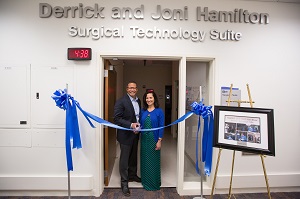 Harper College has named its surgical technology suite in honor of longtime supporters Derrick and Joni Hamilton.
The Inverness couple, who have donated more than $100,000 in support of the College and the Promise Scholarship Program, was recognized during a recent ribbon-cutting ceremony.
Derrick Hamilton, who served as a Harper College Educational Foundation board member for seven years, said the dedication was particularly meaningful because Joni works as a pediatrician in the area. She has advocated for the training and placement of graduates in Harper's nursing and certified nursing assistant programs.
Their passion for Harper's mission and belief in the College's widespread community impact are crystal clear.
"Harper opens so many doors of opportunity – people young and old can pursue their dreams, they can apply their skills, they can provide for the families and set themselves up for a future," Derrick Hamilton said.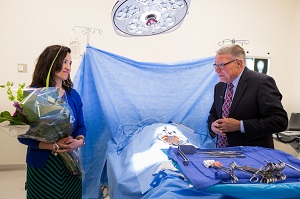 Located within the Foglia Center for Nursing and Allied Health, the newly dubbed Derrick and Joni Hamilton Surgical Technology Suite features viewing areas, an operating room and sterile processing areas. Advocate Good Shepherd Hospital in Barrington was instrumental in outfitting the new space by donating several pieces of equipment including patient surgical tables, an instrument washing sink and a sterilizer.
Harper's surgical technology degree program, which launched in fall 2017, prepares students to serve as valued members of hospital and clinical surgical teams, ensuring patient safety by utilizing aseptic techniques and maintaining sterile fields during surgical procedures.
"Harper brings to campus the real-world environment that students will eventually encounter in the workforce," Derrick Hamilton said. "The quality of programs and Harper's ability to partner with the community and industry really set students up for success."