Harper entrepreneurs looking to kick start DeoBlock to market
Harper entrepreneurs looking to kick start DeoBlock to market

Harper College News Bureau

May 11, 2018

May 11, 2018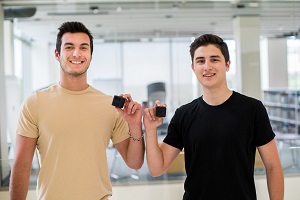 Harper College students Anthony Tamras and Drake Roberts are poised to take their young company, DeoTech LLC, to the next level.
They've spent the past two years developing, tweaking and hopefully perfecting the DeoBlock, a portable deodorizer that combats bad smells with a plant-based gel infused with essential oils. The Palatine High School graduates came to Harper so they could focus on launching the business.
Now, on the eve of graduation, it's time to go to market. To get them there, they've embarked on a Kickstarter campaign with a goal of raising $30,000 to produce their initial inventory of 25,000 units.
"Coming to Harper to work on our company is the best thing we could have done," Tamras said. "We've developed relationships with local manufacturers and a fragrance house, and we've gotten a ton of support from everyone here."
Tamras and Roberts are hopeful the funding effort will be successful. With days to go before the campaign's May 18 expiration, they're just a few thousand dollars short. More than 160 backers have pledged their support so far.
Tamras and Roberts say the DeoBlock is perfect for gym bags, lockers, kitchens and other spaces because it deodorizes, not masks, malodors. The refill pods contain a scent – the current selection includes sandalwood, apple blossom and oceanside – that lasts 30-plus days. When it runs out, users simply recycle the refill pod and replace it with a new one.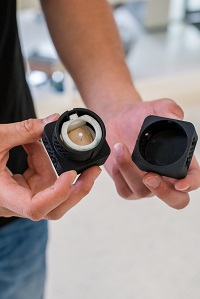 After graduating with an Associate in Arts degree, the pair will transfer to DePaul University to continue their studies, likely in marketing or business management. They're also planning to apply to the Harper College Educational Foundation's Dream Big – Angel Grant program, which supports emerging and active student and community entrepreneurs.
Since the program was established two years ago, Harper has awarded a total of $75,000 in Angel Grants to nine small businesses run by both student and community entrepreneurs.
Roberts said they're thankful for all the support they've received at Harper, from an introduction to an area 3D printing manufacturer by business professor Marie Lapidus to advice from President Dr. Ken Ender. They've also developed a relationship with the owner of several Snap Fitness gyms willing to sell the DeoBlock.
"It was a smart move coming here, and we feel prepared to take the next step," Roberts said.
For more information on the DeoBlock and Kickstarter campaign