Delegation, Japan Ambassador tour Harper facilities
Delegation, Japan Ambassador tour Harper facilities

Harper College News Bureau

July 10, 2018

July 10, 2018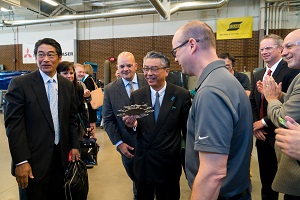 A delegation working to promote United States-Japan economic relations toured Harper College's manufacturing and health careers facilities on Tuesday, part of a daylong visit with the Schaumburg-area business community.
His Excellency Shinsuke J. Sugiyama, Ambassador of Japan to the United States, and the Honorable Naoki Ito, Consul General of Japan to the Midwest, helped lead the group.
The tour was part of the consulate's partnership with JETRO Chicago (Japan External Trade Organization) known as "Grassroots Caravan," which works to highlight the contribution of Japanese companies to local economies.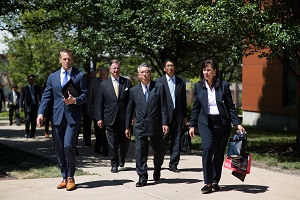 More than 70 Japanese companies have a presence in Schaumburg, according to Kyle Schulz, Director of Economic Development for the Schaumburg Business Association. He said the trip to Harper helped to showcase the Schaumburg area as an advantageous place for businesses, pointing to the strong partnerships in place between the College and area companies, as well as the pipeline of trained workers that Harper produces.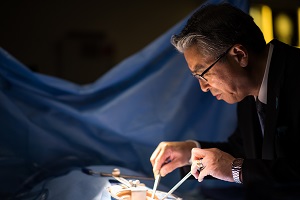 The delegation's stops at Harper included the FMA Metal Fabrication Lab, simulation hospital and the surgical technology suite. There was also an impromptu visit to the dental hygiene clinic, where Harper students were using toothbrushes and other oral health care products manufactured by Sunstar, a Japanese company with its North American headquarters in Schaumburg.
Other members of the delegation represented Intersect Illinois, the Japan Chamber of Commerce and Industry of Chicago, the Illinois Manufacturers Association, Governor Bruce Rauner's office, the Illinois Department of Commerce and the village of Schaumburg.