Gov. Rauner visits Harper to sign two higher education bills
Gov. Rauner visits Harper to sign two higher education bills

Harper College News Bureau

August 13, 2018

August 13, 2018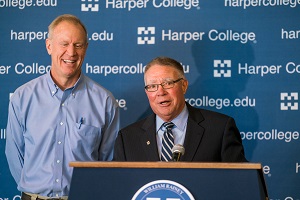 Gov. Bruce Rauner visited Harper College today to sign legislation aimed at giving community colleges and four-year institutions the tools they need to better serve students with financial aid plans, an expanded application of credit transfers and increased student counseling.
"We wanted to have this bill signing here because you do such an outstanding job," Gov. Rauner said. "This is one of the great community colleges in America. We're very proud of your work."
Rauner signed HB 5020, which revises MAP grants to give priority access for existing recipients. Currently, MAP grants are administered on a one-year basis and students are not guaranteed one the next year.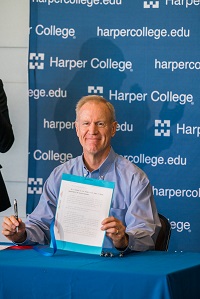 Rauner also signed SB 2354, which makes it easier for students to transfer credits from one Illinois school to another – including reverse transfer credits from four-year colleges and universities to community colleges. The new law encourages institutions to counsel students more closely on how best to apply credits toward degrees. It also requires students who submit at least 30 credit hours to declare their degree interest so schools can better advise on the best path to completion.
One goal of the bill is to help prevent students from wasting time and money taking classes they don't need.
"Today we take a major step to improve education in the state of Illinois," Rauner said.
State Sen. Tom Rooney (R-Rolling Meadows), whose district includes Harper, said the bills came out of the bipartisan Higher Education Working Group, which was tasked with addressing the enrollment decline in higher education.
"We're going to make being able to count on a MAP grant a whole lot more predictable, which it hasn't been so far," Rooney said. "And the reverse transfer bill is part of a nationwide effort to establish reverse transfer efforts all across the country."
Dr. Ken Ender, President of Harper College, said Harper emphasizes the importance of students finishing what they start. He said the College has previously reached out to former students who left empty-handed.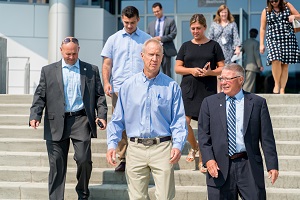 "They were able to transfer in credit … and now many of them have an associate degree who had no degree," he said.
Rauner, who noted that his brother attended Harper, wrapped up his visit with a tour of the new Foglia Foundation Health and Recreation Center, which officially opens next week. The building is an innovative public-private partnership with Palatine Park District and Northwest Community Healthcare. The park district contributed $9 million toward the renovation, will operate the indoor pool and offer programming. NCH opened a 10,000-square-foot outpatient care center in the facility that provides primary and immediate care, along with other services.