Marine finds sense of community among fellow student veterans
Marine finds sense of community among fellow student veterans

Harper College News Bureau

August 29, 2018

August 29, 2018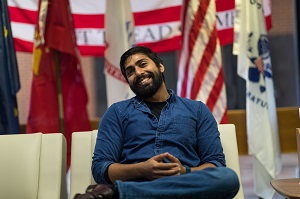 In the Marines, Mudassir "Moon" Hussaini felt a purpose.
He worked on multimillion-dollar equipment as an aircraft mechanic. He saved a fellow Marine from falling into helicopter blades. He led training sessions on a variety of critical topics.
The days were long and the work was grueling. But he was satisfied.
After an injury and five years of service, however, it was time for a new adventure.
"The problem was that you get about one week to prepare for the transition to civilian life," said Hussaini, 26, of Schaumburg. "I remember thinking, 'Where am I going to go? What am I going to do?' I never felt so lost."
Hussaini knew he needed a college degree, but he was on his own to tackle the research. He looked into a myriad of four-year institutions and even for-profit schools. The process felt overwhelming.
Then he visited Harper's website, drawn to the prospect of graduating with little-to-no debt. He quickly found information about how the College works to support student veterans. He connected with Veteran Advisor Ben Allen, who helped him understand his GI benefits and other support services.
After coming to Harper, Hussaini immediately joined the Student Veterans Association. He also assisted Harper's effort to open the Center for Student Veterans and Military-Connected Students.
"From Day 1, I felt like Harper was a place where I could start my new life," Hussaini said. "Veterans face a lot of unique challenges, and it's been helpful to share stories. I really found a sense of community."
Hussaini is working toward a career in robotics engineering. He'd love to be an inventor one day. For now, he has a job as a student aide in the Veterans Center, helping other student veterans navigate the system and find their own way.
"If I can help other student veterans feel not so lost, then I feel like I'm kind of paying it forward," he said.
---
Want to learn more about benefits for military veterans and dependents? Attend a free seminar on Saturday, November 3, 2018, 10 a.m.–2 p.m. at Harper's Building W amphitheater. The seminar covers disability claims, appeals, health care for your dependents, tax credits, vocational rehab, and everything in between. Register today!