Harper was a "great journey" for University of Michigan student
Harper was a "great journey" for University of Michigan student

Harper College News Bureau

September 13, 2018

September 13, 2018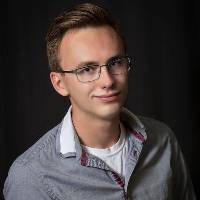 When Faustas Udrenas arrived at Harper College in 2016, he wasn't sure if he'd be "missing out" on opportunities, having opted for a two-year school over the four-year institutions his friends were choosing.
"A big thing for me was that I felt like I wasn't involved enough in high school, and I wasn't enough of a leader or someone who was outgoing," said the Lithuanian-born 19-year-old from Crystal Lake.
Because of this, Udrenas wanted more than just a program to study mathematics — he wanted a place where he could participate in extracurricular activities, engage with the community and connect with faculty.
Two years later, he wrapped up his time at Harper by addressing his fellow students as a Motorola Solutions Foundation Award for Excellence winner and Coca-Cola Scholars Program bronze medalist at Harper's Honors Convocation, utterly convinced that he made the right decision.
"I think I got more out of Harper than I would have at a four-year school," said Udrenas, who recently transferred to the University of Michigan in Ann Arbor. "It's been a really great journey."
Udrenas, who concentrated in math and graduated this past spring with a 4.0 GPA, was president of Harper's Honors Program. Other accomplishments included traveling to Phi Theta Kappa honor society conventions, helping to start a food bank for students, studying gentrification and homelessness with the Honors Program in London, and presenting his own research on evolving approaches to probability to the Honors Council of the Illinois Region.
The research opportunities were perhaps the most significant validation of Udrenas' decision to attend Harper.
"Research was easily accessible, I was able to do it with lots of professors, and it was well-developed," he said. "I don't know how much research you could do at a four-year school, especially when the professors have these huge lecture halls and it's hard to get that connection."
That personal attention was reciprocated through Udrenas' own teaching at Harper's Tutoring Center, where he shared his love of math.
"Once I started (tutoring), I realized how much fun it is to see things from other perspectives and try to help other students," he said.
Udrenas also praises the person who got him to see the discipline from another angle: Harper math professor Kyle Knee.
"He made the whole class really fun and interesting," said Udrenas. "He kind of proved to me that math isn't just a logical thing, it could also be a beautiful thing."
Knee himself has no doubt that Udrenas will succeed in future pursuits.
"What made Faustas stand out to me was his interest in really understanding material as opposed to just memorizing it for an exam," Knee said. "I could tell that he really enjoyed learning and was excited to explore and was ready to be amazed by what he was learning."
Udrenas has taken that sense of awe to the University of Michigan, where he earned full tuition through the school's Provost Award. He plans to pursue actuarial science or math, with the ultimate goal of becoming a university professor of pure mathematics.
Thanks to Harper, Udrenas admits he's not the same reserved teen who matriculated two years ago.
"I've been able to grow my confidence a lot. I've had a chance to grow as a leader, both on campus and off campus," he said. "It's just been a completely fruitful experience for me."