Pathways, internship propel Harper student to U of I Engineering
Pathways, internship propel Harper student to U of I Engineering

Harper College News Bureau

September 27, 2018

September 27, 2018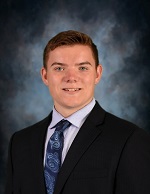 The mounting costs of higher education in the United States can put a financial strain on students and families – a situation Christian Hyde specifically wanted to avoid.
"I'm actually a triplet, so there were three of us going to school at the same time," said Hyde, who graduated Harper College with honors distinction in May. "And I have an older sibling and also a younger sibling, so now there are four kids in college."
You can find Hyde at the University of Illinois at Urbana-Champaign (UIUC) this fall by way of Harper's Engineering Pathways, a program that offers qualified students guaranteed admission to UIUC's College of Engineering. Also a winner of the Motorola Solutions Foundation Award for Excellence, which covered a year of courses and books at Harper, he plans to pursue his bachelor's degree in mechanical engineering with a minor in electrical or computer engineering.
"I did research on the Engineering Pathways program at Harper, and I realized that the first two years with the smaller classroom setting was probably going to be the best option for me because I was a quiet person in school," Hyde, 21, said. "I was homeschooled up until high school, so that probably was a big factor in my decision to go to Harper."
Though admittedly quiet, Hyde was incredibly motivated. At Harper, he was a goalkeeper for the men's soccer team (he just made U of I's team as well), a member of the Phi Theta Kappa honor society and active in his Boy Scout troop, where he earned the rank of Eagle. Hyde also volunteered as both a high school soccer coach and science and math tutor at the Harper College Library – all while holding down a part-time job every semester.
"I actually found I was more productive with school when I was involved," said Hyde, adding that Harper also helped open him up socially.
The professors at Harper, and their commitment to engaging with students, was also an asset to him.
"Every professor that I had was willing to go out of their way to schedule office hours," he said. "They welcomed questions, which was nice."
That sense of encouragement led to what Hyde considers his greatest accomplishment in his two years at Harper: securing a summer internship with grill manufacturer Weber-Stephen Products. After an employee came to speak to one of his engineering classes, he followed up with the presenter via email and ended up sending his résumé.
At Weber-Stephen, Hyde got hands-on experience with design, 3D modeling, prototyping, and testing.
"I was on the research and development team for the charcoal line, so they actually designated a project for me to complete over the 10 to 12 week program," he said. "It was amazing, and I really found that Harper does a good job preparing students to go find internships themselves."
Does Hyde have any advice for others debating between a two-year and four-year college?
"If you get into the Engineering Pathways program, I don't see any other better opportunity," he said.
---
To learn more about studying engineering at Harper, RSVP now for the Engineering Information Session on January 30.