Community colleges learning from Harper's success in apprenticeships
Community colleges learning from Harper's success in apprenticeships

Harper College News Bureau

October 12, 2018

October 12, 2018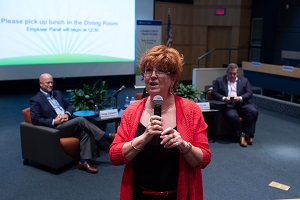 Harper College has emerged as a national leader in apprenticeship programs, combining on-the-job learning experiences with job-related instruction.
This week, nearly 100 community and technical colleges from across the country came to campus to get a glimpse into how Harper makes it all work.
Harper's inaugural national conference provided practical solutions to manage and grow quality apprenticeship programs. Attendees from 36 states took away innovative approaches in the delivery of successful apprenticeship programs, marketing strategies that target prospective employers and apprentices, and practical insights to increase apprentice retention.
"This was a working conference providing practical approaches," said Rebecca Lake, Dean of Workforce and Economic Development at Harper. "How do you start one, how do you grow one, how do you select which programs."
The conference also emphasized implementing academic coaching for apprentices and mentor training for companies.
Harper's apprenticeship initiative, which launched in 2015 with the support of a $2.5 million U.S. Department of Labor grant, has grown to eight programs including Banking/Finance, CNC Precision Machining, Cybersecurity, General Insurance and Supply Chain Management/Logistics. Over the past three years, there have been 158 apprentices averaging a 3.57 GPA and a 90 percent retention rate.
Andrew Kerr, Associate Vice President of Workforce Development at Illinois Central College in Peoria, said he and his colleagues were excited to learn how to grow and sustain their programs. ICC currently runs an industrial maintenance apprenticeship and plans to launch apprenticeship programs in software security and CNC machining.
"The conference was an amazing coming together of community colleges with the sole purpose to help each other grow apprentice programs," Kerr said. "That was pretty awesome, considering these programs help many students into a career path with a family-sustaining wage that would have been out of reach for many without the apprenticeship structure."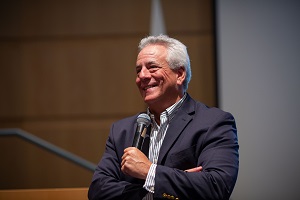 In addition to hearing from Harper apprenticeship staff, three businesses of varying sizes discussed their experiences including Zurich, Mechanical Power and HydraForce. Also speaking was Eric Seleznow, who served as deputy assistant secretary for the U.S. Department of Labor's Employment and Training Administration and currently directs the Center for Apprenticeship and Work-Based Learning at JFF (Jobs for the Future).
The Joyce Foundation covered registration costs for all participants.
"There was a ton of demand and the conference was very well-received, so the plan is to do it again next year," Lake said.
Caption: Rebecca Lake (top photo) and Eric Seleznow (bottom photo) address conference attendees.