Harper Ensemble Theatre Company presents "Follies"
Harper Ensemble Theatre Company presents "Follies"

Harper College News Bureau

November 1, 2018

November 1, 2018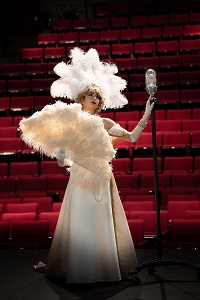 The Harper Ensemble Theatre Company presents an epic exploration of past regrets and misplaced hopes in "Follies," a Sondheim musical masterpiece.
The play runs Nov. 9-18 at the Performing Arts Center on Harper's main campus, 1200 W. Algonquin Road, Palatine. Performances will be held at 8 p.m. Fridays and Saturdays and at 2 p.m. Sundays.
The time is 1971 in New York City, and theatrical impresario Dimitri Weissmann hosts "a first and final reunion" of The Weismann Follies showgirls before their old theater is demolished. Thirty years after their final performance, they gather to have a few drinks, sing and dance their old numbers and confront their demons.
The show features some of Sondheim's most memorable songs including "Losing My Mind," "I'm Still Here" and "Broadway Baby."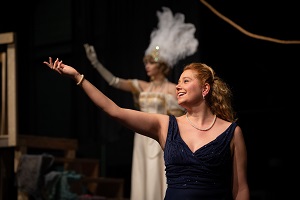 Surreal, sophisticated, compelling, heart-wrenching and epic in scope, "Follies" is sure to provide an evening of meaningful entertainment.
Patrons are invited to discuss the performance with Director Kevin Long at 1 p.m. before the Sunday shows in the Performing Arts Center lobby.
Tickets to the performance are $15 for seniors and Harper students, faculty and staff, and $20 for general admission. To purchase tickets, contact the Harper College Box Office at 847.925.6100 or visit harpercollege.edu/boxoffice.