Harper College celebrates partnership with Advocate Good Shepherd Hospital
Harper College celebrates partnership with Advocate Good Shepherd Hospital

Harper College News Bureau

December 13, 2018

December 13, 2018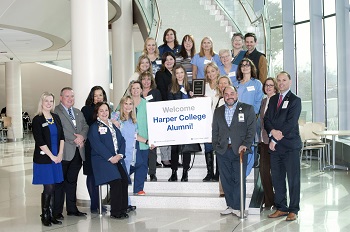 Harper College's longtime partnership with Advocate Good Shepherd Hospital has been a fruitful one.
Many of Harper's health careers students gain invaluable experience doing their clinical coursework at the Barrington hospital. Good Shepherd also was instrumental in outfitting the college's new, state-of-the-art surgical suite lab last year, donating patient surgical tables, a fluid and blanket warmer, scrub sink, instrument washing sink, sterilizer and other equipment.
And for years, Harper alumni have gone on to work at Good Shepherd, one of the region's leaders in delivering the most advanced medical technologies and comprehensive health services available.
The Harper College Educational Foundation recently recognized many of those alumni through its Stand Up and Be Counted program, an initiative that celebrates area employers that hire Harper alumni.
"Harper College works to ensure the educational needs of the community, while Advocate Health Care works to meet the health care needs of the community," Harper Provost Judy Marwick said. "Together, we partner so that our wonderful alumni can go forward and do impactful work."
One such alumnus is Wendy Roach, who credited Harper with providing the educational foundation and clinical learning opportunities necessary to launch a career in ultrasound care at Good Shepherd. Roach now works in hospital administration as Director of Patient Access.
"Harper and Good Shepherd do an excellent job putting together the kinds of clinical rotations and hands-on modalities that are essential for students," Roach said. "What they do there, they will put into practice in their careers."
Health Careers Dean Kimberly Chavis encouraged alumni to attend Harper's 8th Annual Nursing Alumni Symposium in April. The innovative forum features continuing education opportunities, networking and nationally recognized speakers, as well as a chance to pass along some words of wisdom to current nursing students.
Rafael Malpica, Director of Community and Guest Relations, said the Stand Up and Be Counted event demonstrated the importance and success of Good Shepherd Hospital's longtime partnership with Harper.
"It's beneficial for both of us," Malpica said. "We couldn't find a better partner than Harper."