Harper charts new course with GIS program
Harper charts new course with GIS program

Harper College News Bureau

January 10, 2019

January 10, 2019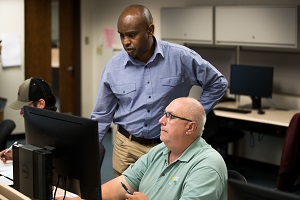 It was just two years ago that Mickey Davis, 29, was employed as a bartender when one day he noticed a map on a back wall of the kitchen where he worked.
"I was thinking about what I wanted to do with my career," he said.
That's when Davis had a eureka moment and began wondering if there was any way to make his living in mapmaking. Today, the Streamwood resident is one of Harper's newest graduates, recently earning a certificate in geographic information systems (GIS).
Davis didn't have to graduate to start working, though. He got an internship through the GIS program creating maps for storm water flooding preparedness with Kabbes Engineering Inc. in Barrington. After about six months, that turned into a full-time job.
"It seems like GIS is so in demand, I was able to get something before I was even done," he said, noting that Kabbes helped pay for his last two classes to finish the certificate. "I'm very lucky."
Launched in 2016, the GIS program at Harper offers instruction in the high-growth industry of geospatial technologies, according to Mukila Maitha, Assistant Professor of geography. Students get hands-on experience in cartographic design, spatial analysis, database design and implementation, and geographic computing devices.
Once students earn an 18-hour certificate they can begin applying for entry-level GIS technician positions, said Maitha, who holds a master's degree in geography from Northern Illinois University and has worked in GIS for more than two decades.
Maitha said there's already a lot of interest – not just from prospective students, but also several other programs at Harper such as marketing, English, biology, web development, anthropology and education – because of the diverse range of applications where the technology can be used.
GIS is almost becoming as ubiquitous as having skills in Microsoft Excel, according to Maitha, who added, "It's becoming a mainstream skillset."
GIS students also can transfer the two-year certificate to other Illinois public universities like NIU or Western Illinois University.
The program has established partnerships with private and public entities such as Kabbes and various municipalities like the village of Palatine, where students can immediately begin getting real-world experience.
GIS student Angelica Avalos, 26, didn't have to go looking for an internship at Harper -- the opportunity came to her, she said.
Mukila approached Avalos in her second semester and set her up with an internship with Harper's Facilities Management Department using a high-position GPS receiver to build a sophisticated inventory of hundreds of trees on Harper's nearly 200-acre campus.
Another student built the mobile application that Avalos and others are using to map the trees' location, type and health, among other attributes, Maitha said.
The mapping project also is helping bring better focus on so-called "tribute trees" that serve as a fundraising opportunity for the college, Maitha said.
Avalos was asked by the facilities department to stay on a few months as a contingent employee to extend the work.
"I've loved it, so far; it's been fun," said Avalos, of Des Plaines. "I recommend it to anyone interested in GIS. I did not expect to do any of this stuff."
To learn more about Harper's GIS program, visit harpercollege.edu.