Harper Ensemble Theatre Company presents "Peter and the Starcatcher"
Harper Ensemble Theatre Company presents "Peter and the Starcatcher"

Harper College News Bureau

March 5, 2019

March 5, 2019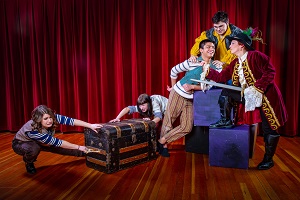 The Harper Ensemble Theatre Company presents the thrilling early adventures of Peter Pan in the Tony Award-winning "Peter and the Starcatcher."
The play runs March 15-24 at the Performing Arts Center on Harper's main campus, 1200 W. Algonquin Road, Palatine. Performances will be held at 8 p.m. Fridays and Saturdays and at 2 p.m. Sundays.
"Peter and the Starcatcher" charts a course of thrilling adventure for orphaned young boys sold to the greedy captain of the Neverland. Peter meets a fierce young lady named Molly, a Starcatcher apprentice, who teaches the orphans about the power of stardust and the extraordinary abilities it can give you.
Molly, Pan, and the rest of the lost boys try desperately to keep the stardust from falling into the hands of Black Stache and Smee, as they fight the waves, hostile natives, and a spiteful crocodile. This voyage rages on the high seas, gets tangled in the depths of the jungles, and crashes over the cliffs of mountain tops in a high energy adventure.
"This story is much more than how a young boy became the famous Peter Pan," Director Cale Haupert said. "It's a tale where each character is searching to become whole, to find a place where they fit, and to capture a feeling of home."
Tickets to the performance are $15 for seniors and Harper students, faculty and staff, and $20 for general admission. To purchase tickets, contact the Harper College Box Office at 847.925.6100 or visit harpercollege.edu/boxoffice.