Panel explores how women in public service are reshaping leadership
Panel explores how women in public service are reshaping leadership

Harper College News Bureau

March 15, 2019

March 15, 2019
Although women remain far from having equal representation, a record number of them currently hold seats in the United States Congress, now comprising nearly a quarter of the 535 members. Similar shifts can be seen in state legislatures across the country.
Four Northwest suburban women who currently hold public office – State Sen. Cristina Castro, Barrington Village President Karen Darch, District 214 Board Member Alva Kreutzer and State Rep. Michelle Mussman – gathered for a HOPE Giving Circle event, Women at the Table, to discuss women in public service.
"This political climate has energized and empowered women both young and old to come to the forefront and run for office in record numbers," said panel moderator Luz Canino-Baker, President of Latinas On The Plaza and LNC Coaching. "This, despite the traditional barriers we face as women including lack of self-confidence, lack of mentors, discomfort in tooting our own horn, letting others take credit for our ideas and not speaking up, not using our voice."
Each elected official shared her story and offered insight into the opportunities and challenges facing today's women in public service.
They highlighted many of the differences they see between the sexes, such as how women often times need to be convinced to run for office. They also characterized their contrasting demeanor and communication style as tremendous assets.
Mussman and Castro, for example, agreed that the two-year state budget impasse would have looked much different had more women been at the table.
"We were much more ready to compromise whereas the men in the room referred to the struggle in war terminology," said Mussman, emphasizing how hard women fought to be at the table. "Women really do change the tenor of things and we definitely need more of us pushing our way into the conversation to really affect change."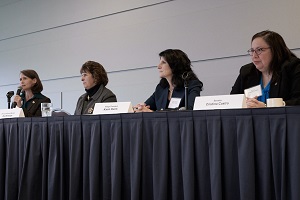 The panelists discussed their strengths (listening, strong work ethic and the willingness to work with even the fiercest opponents), networking, leadership, overcoming barriers, and dealing with critics.
"Politics are not for the faint of heart," Darch said. "You develop a thick skin. You have to … you focus on knowing what you are and what you're about."
For women who might be considering public service, the panelists did emphasize the importance of being fearless, pragmatic and really participating once you're elected.
"If you're not at the table, you're on the menu," Castro said. "So a lot of us as women pull up a chair."
Harper's HOPE Giving Circle brings together influential women with a common goal of supporting women to pursue higher education and reach their full potential. The program provides financial support, ongoing mentoring and leadership development for female students who are completing their final year at Harper and continuing on to a four-year college.
The group has so far awarded six $10,000 scholarships, with another four planned for this year.
For more information, visit harpercollege.edu/foundation.