Ambassador School Program gets kids to see college as a possibility
Ambassador School Program gets kids to see college as a possibility

Harper College News Bureau

April 17, 2019

April 17, 2019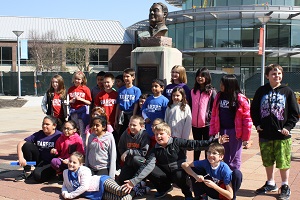 Poverty's impact on a student's academic achievement is significant. The more poverty you experience, the less successful you're likely to be.
Like many suburbs nationwide, Harper's district in recent years has seen a significant increase in low-income residents. In 2003, there were four schools in which 50% or more of students qualified for the federal free and reduced-priced lunch program. As of 2017, that number had grown to 23 elementary and junior high schools in Harper's district.
"The statistical relationship between poverty and success in education is clear, and when you look at these schools, I know that many of these students are coming from homes that have no higher education," President Ken Ender said.
There wasn't much Harper could do to directly impact these young students, Dr. Ender figured, but he wasn't going to do nothing.
"You can't wait for these kids to get to us," he added.
Under Dr.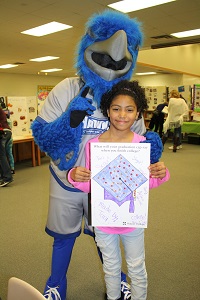 Ender's direction, Harper established the Ambassador School Program to spark an early interest in college.
Harper partners with 32 Ambassador Schools throughout the district – nearly all with a significant population of low-income students – to take part in a variety of initiatives each year. Harper representatives visit the schools to help lead events such as STEAM fairs, literacy nights and career day presentations; likewise, Ambassador School students visit Harper for interactive campus tours.
The campus tours are especially impactful, since students get to envision themselves in a college setting.
Ambassador School students begin the day with a welcome session that provides an age-appropriate introduction to college, myths, scholarship opportunities and campus life. They ask questions and hear from a panel of Harper students, who then escort them to a variety of activities led by faculty and staff in nursing, business, zoology, graphics, manufacturing and other fields.
Over the last five years, nearly 20,000 fourth- to eighth-grade students have taken part in the campus tour program.
"Many of the kids who visit have never stepped foot on a college campus before. They just don't see college in their future," Community Relations Manager Amie Granger said. "We get them in the labs and in the classrooms, and th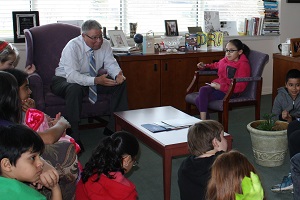 ey start to connect college as the gateway to different career paths. By the time they leave, they see college as something accessible, and something to be excited about."
Those messages are reinforced throughout the year by Harper representatives who visit the Ambassador Schools to lead a variety of college planning presentations, career exploration activities, parent nights and family fun fairs.
Other Harper initiatives targeting Ambassador Schools include the annual College and Career Expo (this year's is April 27) and Restock the Classroom, in which Harper faculty, staff and students collected thousands of school supplies earlier this year in an effort to alleviate some of the personal expenses that teachers incur to keep their classes stocked.
"Restock the Classroom is a small way we can show our support for the teachers who play such a critical role in our students' journeys," Granger said.
Dr. Ender acknowledged that it's difficult to know what kind of impact Harper is making given that Ambassador School students are several years shy of college. But, he said, Harper and other organizations must work together to build a system that supports a person throughout their education and career.
"Kids need to imagine a future that includes higher education," Dr. Ender said. "Just the fact we're getting volunteers into 30-some schools and these kids are coming to campus and seeing Harper – and college in general – as a place for them … it's an important start."
Dr. Kenneth L. Ender will complete his 10-year tenure at Harper College on June 30, 2019.