Harper dedicates police memorial to honor fallen officers
Harper dedicates police memorial to honor fallen officers

Harper College News Bureau

May 13, 2019

May 13, 2019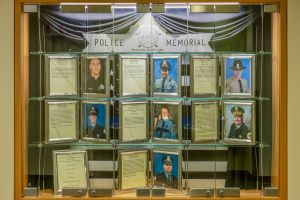 A new police memorial at Harper College will honor those who have lost their lives while serving and protecting the public.
A display case near the Law Enforcement and Justice Administration program in the Career and Technical Education Center, Building H, was formally dedicated on Friday.
"Students need to acknowledge the commitment to this career and know what it takes," said Associate Professor Wayne Johnson, who served on the Chicago Police Department for 25 years. "This pays homage to those who serve every day and have paid the ultimate sacrifice."
The display features the photographs and backgrounds of seven fallen officers from the region who had connections through Johnson and members of the Harper police and faculty. They are:
Officer Raymond Murrell, Bloomingdale Police Department, was killed in a vehicle crash while responding to a larceny in progress. End of Watch: January 19, 2017.
Commander Paul Bauer, Chicago Police Department, was fatally shot at the Thompson Center while confronting a fleeing suspect. End of Watch: February 13, 2018.
Officer Samuel Jimenez, Chicago Police Department, was fatally shot after responding to a domestic disturbance outside Mercy Hospital. End of Watch: November 19, 2018.
Officers Conrad Gary and Eduardo Marmolejo, Chicago Police Department, were struck and killed by a South Shore Line commuter train while investigating a report of gunfire. End of Watch: December 17, 2018.
Trooper Christopher Lambert, Illinois State Police, was struck and killed by a passing vehicle while assisting at the scene of a three-vehicle crash. End of Watch: January 12, 2019.
Deputy Jacob Keltner, McHenry Council Sheriff's Office, was fatally shot while executing an arrest warrant for a fugitive. End of Watch: March 7, 2019.
Johnson said the effort was a multi-program collaboration, with Graphic Arts, Fashion Design and Advanced Manufacturing helping with the design and installation of the display.