High School Equivalency graduation a celebration of perseverance
High School Equivalency graduation a celebration of perseverance

Harper College News Bureau

July 11, 2019

July 11, 2019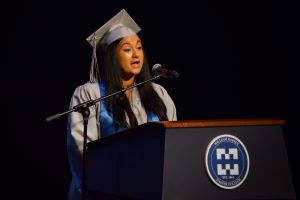 Harper College's recent High School Equivalency graduation ceremony was a celebration of perseverance and hard work.
Among this year's class of 60 students were Marwil Claret Chirinos and Marie Elaine Bollozos, two inspirational graduates who overcame numerous challenges to excel academically.
Chirinos (right) was 13 years old when her father left her and her mother to fend for themselves. By 16, she was forced to leave high school to help provide for the two of them and their relatives in Venezuela who had fallen upon financial hardship.
"We found ourselves working harder than ever to keep our family alive," Chirinos said.
Still, Chirinos promised her mother that she would complete her GED. It wasn't an easy route. Shortly after Chirinos enrolled in Harper's High School Equivalency preparation classes in 2014, she suffered a severe injury to her ACL that left her bedbound for months.
Chirinos attempted a fresh start after recovering, moving to California to work as a caregiver. But three years of working 16-hour shifts, six days a week left her feeling burnt-out, sick and discouraged. Chirinos welcomed her mother's urges to come home to give Harper another chance.
"It felt amazing to finally focus only on my education and have the chance to restart my journey where I left off years ago," Chirinos said.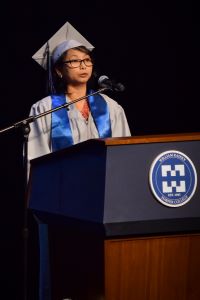 Fellow graduate Marie Elaine Bollozos (left) faced obstacles of her own while seeking work in the United States.
She successfully completed high school in her native Philippines but struggled through a handful of college courses after her father died when she was 17. Differences in the countries' academic requirements meant Bollozos was unable to put the credits she had earned toward a degree. She also struggled with Harper's placement testing, preventing her from enrolling in her desired program.
"Math was always my weakness," Bollozos said. "That's what kind of deterred me at first."
Bollozos discovered the High School Equivalency program during a visit to Harper's campus in fall 2018 while taking part in a bridge to career program at Forest View Educational Center in Arlington Heights. A resident of Hoffman Estates, Bollozos saw the program as a convenient way to get a fresh start close to home.
Bollozos was hesitant to apply, plagued with self-doubt about being "too old" for school. However, she quickly learned to overcome her fears.
"With perseverance and helpful people pointing me in the right direction, I passed through the barriers one at a time," Bollozos said.
Both women worked their way through 16-week classes in math, social science/science, language arts, and college and career success. After displaying extraordinary resolve and work ethic, Chirinos and Bollozos were chosen as student speakers from this year's class. Both students also earned Harper's HSE Distinguished Scholar Award, which will cover the cost of tuition for up to 30 credit hours.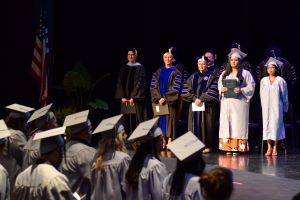 Chirinos plans on using her scholarship to complete her Associate of Science degree at Harper and apply to the dental hygiene program. She hopes to one day attend a dental school or study pathology.
Despite her fears, Bollozos has garnered a greater appreciation for math and is pursuing an associate degree in accounting. Her goal is to work in finance administration and work at a Fortune 100 company.
Professor Maria Knuth, one of the High School Equivalency graduation organizers and a math instructor in the program, is incredibly proud of all the graduates and urges others to apply.
"The GED test has changed millions of lives," she said. "But it is no longer the end point."
According to the Bureau of Labor Statistics, middle skill jobs – jobs that require more than a high school diploma but not as four-year degree – make up 54% of the economy, but only 44% of United States workers are trained at this level. By 2020, it is predicted that 65% of all jobs in the United States will require some level of post-secondary education.
Bollozos urges older adults hoping to broaden their career horizons to consider Harper's High School Equivalency program.
"Juggling school, family and work can be hard," she said. "But if you persevere and make time for what is important, with God's help, you can achieve your goals."
Chirinos hopes people will realize there are many reasons why a student may fall behind in school or be forced to leave school. She said, "There is quote I always go back to for motivation by Nelson Mandela: 'It always seems impossible, until it's done.'"
For more information about Harper's High School Equivalency prep classes, visit harpercollege.edu.