Harper kicks off Latinx Heritage Month
Harper kicks off Latinx Heritage Month

Harper College News Bureau

September 16, 2019

September 16, 2019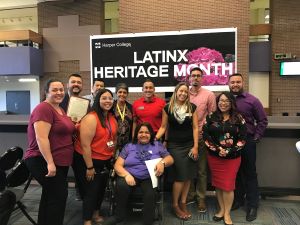 Harper College held a Latinx Heritage Month kickoff event on Monday, the first in a series of programs aimed at celebrating the histories, cultures and contributions of Hispanic and Latino Americans.
Associate Dean of Students Gabe Lara noted the population of Hispanic and Latinx Americans has grown from about 4.5% in 1968 to 19% today. Similarly, Harper's student body has grown to more than 4,000 Hispanic and Latinx students, or about 28%.
"Today's young Latinx Americans will be our teachers, our doctors, lawyers, engineers, business leaders, elected officials and community leaders of tomorrow," Lara said.
Lara also highlighted PASO (Proyecto de Apoyo Superando Obstaculos), an initiative that offers guidance to parents of Latinx students throughout their Harper journey. PASO promotes family and community involvement on campus, strengthens communication, and provides answers to college questions for the families and supporters of Latinx students.
Though scheduled keynote speaker Susana Mendoza, who serves as Illinois comptroller, was unable to attend the kickoff, Palatine Mayor Jim Schwantz read a proclamation that captured how Hispanic and Latinx Americans have helped to shape and advance the country.
Upcoming Latinx Heritage Month events to be held at Harper include Tres Vidas from 12:30 to 2 p.m. Tuesday, September 17, at the Performing Arts Center. This event, which is free and open to the community, features one performer portraying three legendary Latin American Women: Frida Kahlo, Rufina Amaya and Alfonsina Storni, accompanied by folkloric and tango music performed by professional chamber musicians.
Other events include a student diversity workshop on October 3, an El Bienestar Y Comida food demonstration on October 4, and Cycling With Sazón on October 8, among others.
Dr. Avis Proctor lauded the month's rich slate of programs and emphasized the importance of regularly celebrating various cultures, beyond designated heritage months.
"This should be something that we cultivate on a regular basis, of understanding people from different backgrounds and appreciating differences," Dr. Proctor said.