Alum recreates iconic artwork through "Tres Fridas Project"
Alum recreates iconic artwork through "Tres Fridas Project"

Harper College News Bureau

October 30, 2019

October 30, 2019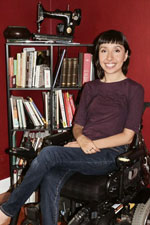 An exhibit that recreates iconic images of art substituting the subjects with people with disabilities is making its way to Harper College.
A collaboration between Harper alumna Reveca Torres and Chicago artists Miriam Pare and Tara Ahern, "Tres Fridas Project: Reimagining Art Through the Disability Lens" will be available for viewing November 4-8 on the second floor of Building P on the college's main campus.
Professor Pascuala Herrera, who remains close to Torres, said the exhibit supports Harper's efforts to promote social justice for individuals with disabilities.
"It will help people to realize that individuals with disabilities can be successful, creative and accomplished," said Herrera, an accessibility specialist in Access and Disability Services. "It may make viewers take a moment and comprehend that disability doesn't have to be something to fear or hide."
Torres, Pare and Ahern are each artists with disabilities who deeply relate to Mexican painter Frida Kahlo. A few years ago, Torres and Pare recreated Kahlo's famous painting, "Las Dos Fridas," by sitting in their wheelchairs in order to share a message about the human experience of disability. Ahern photographed them.
The success of that piece led the trio to recreate other notable images such as Leonardo da Vinci "Mona Lisa" and Pablo Picasso's "Old Guitarist" as part of the "Tres Fridas" project.
Torres, who was named to Harper's 2016 class of Distinguished Alumni, was paralyzed in a car accident at age 13. She became the first person with a spinal cord injury to complete Harper's Fashion Design degree. She's helping to make a documentary film that captures the artists recreating all 16 images, meeting other artists with disabilities and advocates, and interviewing their subjects about living with a disability.
Torres plans to interview Herrera for the documentary.
"Pascuala was actually the first woman with a disability that I met after my injury," Torres said. "I looked up to her because she shared her advocacy work with me when I first met her and that was impactful for me. She has been such a champion of my work that I would love her perspective and to include her in the film."
Herrera said Torres is an extraordinary woman who has made a significant impact through groundbreaking initiatives such as starting Backbones, a nonprofit organization that provides one-to-one support for individuals with spinal cord injuries.
"I am proud of all that Becky has accomplished and proud that it all began at Harper College," Herrera said.
A reception for the exhibit will take place at noon Tuesday, November 5, in the Building C concourse.