Congratulations to our 2016 Distinguished Alumni Award Recipients
Congratulations to our 2016 Distinguished Alumni Award Recipients

News Bureau

February 28, 2017

February 28, 2017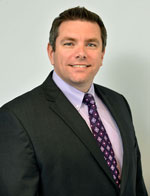 Matthew J. Barbini, Ed.D (Hoffman Estates, IL)
Deputy Superintendent of Schools, Palatine School District 15
In many ways, Dr. Matthew Barbini's professional journey has come full circle.
It was during his time at Harper College that he found his calling to pursue a career in education. Since then, he's gone on to do great things for the communities of Downers Grove, Warren Township and Highland Park in his roles as a special education instructor and administrator.
Barbini is now back in Palatine as deputy superintendent of schools at Community Consolidated School District 15, where he has earned a reputation as a skilled administrator with a proven track record of making a positive impact on the students he serves.
In his current role, Barbini oversees technology and data services, the communications department, complaint management, district boundaries, student assignment, student attendance, district crisis and emergency management, among other duties.
He previously served as assistant superintendent of student services in North Shore School District 112 and director of special education for Valley View School District 365-U. Before becoming an administrator, he served for six years as an LD/ED resource instructor, two years at Warren Township High School and four years at Downers Grove South High School.
Dr. Meg McEnery-Schnoor, a District 15 colleague and a fellow Distinguished Alumni recipient (Class of 2014), said Barbini "is a person who puts students' needs first, a person who has not forgotten the needs of teachers in spite of his long tenure as a school administrator, and someone who has dedicated his life and career to the greater good."
After graduating from Harper College with an Associate in Arts, he went on to earn a bachelor's degree in education from Illinois State University as well as a master's degree in education and a doctorate degree in educational administration from Northern Illinois University.
Barbini said he came to Harper because he knew he'd receive an excellent education while he figured out what he wanted to do.
"I remember talking with friends who went away to school and seeing the textbooks they were using and the content they were going through," he said. "It was the same, and I felt Harper prepared me extraordinarily well. I had an incredible experience."

View Matthew's video.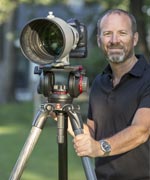 Paolo Cascio (Schaumburg, IL)
Cinematographer and Photographer
Some of Paolo Cascio's earliest formative experiences came as a photographer working on Harper College's student newspaper, The Harbinger.
It was during those assignments – be it on the sidelines of a football game or at a Buddy Rich or Muddy Waters concert – that Cascio solidified his path toward a career in the entertainment industry.
More than 30 years later, Cascio has accrued more than 120 credits on feature films, television shows and commercials as a cinematographer.
"My time at Harper, especially with the newspaper staff, definitely had a big impact on me," said Cascio, who went on to attend film school at Columbia College in Chicago.
In 2009, the International Cinematographers Guild honored Cascio with its Emerging Cinematographers Award for the short film Almost Perfect. He was internationally recognized for the film at Camerimage in Lodz, Poland. Cascio also received nominations at the 168 Film Festival for Best Cinematography in 2008 for Unbound and in 2007 for A Good Day.
The Schaumburg native openly shares his expertise with others, leading workshops for up-and-coming filmmakers, visiting high schools and colleges and serving as a juror at film festivals. He has a reputation for always being willing to help a cause or organization, trying to make a difference.
He regularly donates his technical and photography skills to Willow Creek Community Church and is currently working with Gigi's Playhouse, a nationwide organization that offers therapeutic and educational support to individuals with Down syndrome and their families. He recently completed a powerful public service video for WINGS.
His biggest project to date is about to unfold in Honolulu, where he'll work on a documentary and coffee table book about the remaining five survivors of the USS Arizona, the battleship destroyed in the bombing of Pearl Harbor. A portion of the proceeds will benefit the families and foundation.
According to Academy Awards strategist Bruce Carse, Cascio is "a wonderful example of a student who has gone on to achieve great things with authenticity, compassion and curiosity."

View Paolo's video.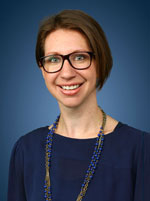 Genevieve Frey (Palatine, IL)
Director, Cardiac Care Unit
Ann & Robert H. Lurie Children's Hospital of Chicago
As a nurse in the pediatric intensive care unit at Children's Memorial Hospital, Genevieve Frey learned early on the impact she had on vulnerable families going through such trying ordeals. She likewise discovered the aptitude she had for helping others to provide the best possible bedside care.
Frey has combined both those passions to rise in the field of pediatric nursing, recently becoming director of the cardiac care unit at Ann and Robert H. Lurie Children's Hospital of Chicago.
"It's been incredibly rewarding to try to channel my energy into making things better at the bedside so our patients can receive better care," said Frey, who earned her Associate in Science degree in nursing from Harper College in 2003.
Frey, of Palatine, was the first manager hired to assist in planning, coordinating and developing the cardiac care unit at Lurie Children's downtown prior to the move from Children's Memorial Hospital in Chicago's Lincoln Park neighborhood.
In that role, she also managed a 36-bed unit with a patient population that includes all cardiac surgery, heart transplant, cardiac inventive care and cardiology patients. She also emphasizes mentorship and professional development of all staff.
Frey earned her Bachelor of Science degree in nursing and Master of Science degree in nursing administration from DePaul University, where she was valedictorian of both nursing classes.
Her strong clinical acumen, leadership and focus on outstanding patient outcomes contributed to her receiving the Prince Scholar Award and being a member of the Earl J. Frederick Outstanding Team.
Frey said she felt well-prepared starting her career as the result of Harper's rigorous nursing program.
"Standards for the program were high, and faculty expectations were high," Frey said. "Harper produces strong nurses who are making a difference all over, and to be honored for doing something I love is incredibly special."

View Genevieve's video.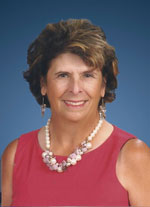 Alva J. Kreutzer (Elk Grove Village, IL)
Confidential Executive Assistant, Human Resources, Niles Township High School District 219
President, Board of Education, Township High School District 214
Alva Kreutzer has devoted more than 25 years to improving the lives of northwest suburban children and their communities.
That's certainly true of her current role as confidential executive assistant, human resources, at Niles Township High School District 219. However, it is through her vast volunteer work and elected offices that she has truly found her passion, performing transformative work through service to others.
"My mom was a war bride from Italy who actually studied to be a nun, so my desire for service really goes back to my upbringing," Kreutzer said. "It was instilled in me that helping others should be a priority."
Kreutzer's dedication to community improvement is especially evident in her work as a longtime board member and current president of the High School District 214 Board of Education. She has been instrumental in helping to guide the district to significant accomplishments amid notable changing demographics and a corresponding need to transform education.
Her work has resulted in numerous awards including Volunteer of the Year by Elk Grove Village; Distinguished Service to the Community by the National School Boards Association; the Dr. Richard E. Wynn Youth Service Award by Omni Youth Services; and the Community Involvement Award by the Kenneth W. Young Center, among many others.
Kreutzer came to Harper College as an adult student to fulfill a lifelong goal. She was inducted into the Phi Theta Kappa Honor Society and earned her Associate in Arts degree in 2006.
"Life threw me a curve ball, so I didn't go to college after high school," she said. "When my second child was in college, I decided it was finally time to go. I was grateful at how much I related to my instructors, and I was fascinated by all the content."
Additional volunteer work includes service on the Elk Grove Village Zoning Board of Appeals and Community Service Board, the Elk Grove Township Community Consolidated School District 59 Board of Education and the Elk Grove Lions Club.
While Kreutzer has long been an advocate for public education and partnerships that enhance our communities, she is now a strong supporter of Harper and its mission, as well.
"I always knew about community colleges and figured they were valuable, but until I was a student it didn't truly dawn on just how vital a place like Harper is," she said. "I'm a true believer now."

View Alva's video.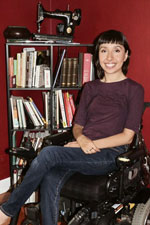 Reveca Torres (Prospect Heights, IL)
Founder and Executive Director, Backbones
At the tender age of 13, Reveca (Becky) Torres was in an automobile accident and fractured her spinal cord, paralyzing her arms and legs. In 1999, unsure if she could physically pursue her dream career in fashion, she enrolled at Harper.
With a few adaptations, Torres became the first student using a wheelchair to complete the fashion design degree, earning her associate degree in 2002. She continued her education at the University of Arizona where she earned a bachelor's degree in theatre arts in 2004.
The Prospect Heights resident has gone on to use her artistic talent, coupled with her personal interest in supporting individuals with similar injuries, to find a way to help and empower others. In 2009, she founded Backbones, a nonprofit organization that provides one-to-one support for individuals with spinal cord injuries.
"I was at an event and spoke with other people with similar injuries, and I realized everyone was saying a lot of the same things," Torres said. "Once you go home from rehab, you lose all the support from doctors, physical therapists and other patients. It's easy to feel alone. I wanted to change that."
As founder and executive director of Backbones, Torres has touched many lives by providing a mechanism where individuals with spinal cord injuries can receive the support they need. She has worked with Shriners Hospital for Children, Mobility International USA (MIUSA) and the University of Illinois (UIC) at Chicago's National Center for Physical Activity and Disability (NCPAD). With their help, she has been able to provide resources on recreation, disability rights, college, travel, employment, and fitness to people with disabilities, specifically teenagers.
Highlighting her inspiring journey of accomplishments, Torres was recognized as the 2015 Person of the Year by New Mobility Magazine.
Torres is currently building a playbook of events such as adaptive yoga, art exhibits and fundraisers that a team of ambassadors can recreate throughout the country. Nominator Pascuala Herrera, a learning specialist at Harper, said can't think of anyone more deserving of becoming a Distinguished Alumni.
"Becky has touched many and indeed she is making a difference on the endless lives she touches," Herrera said. "She helps the community by inspiring people with disabilities to make the impossible possible."

View Reveca's video.