Veterans find connection, belonging at Harper College
Veterans find connection, belonging at Harper College

Harper College News Bureau

November 1, 2021

November 1, 2021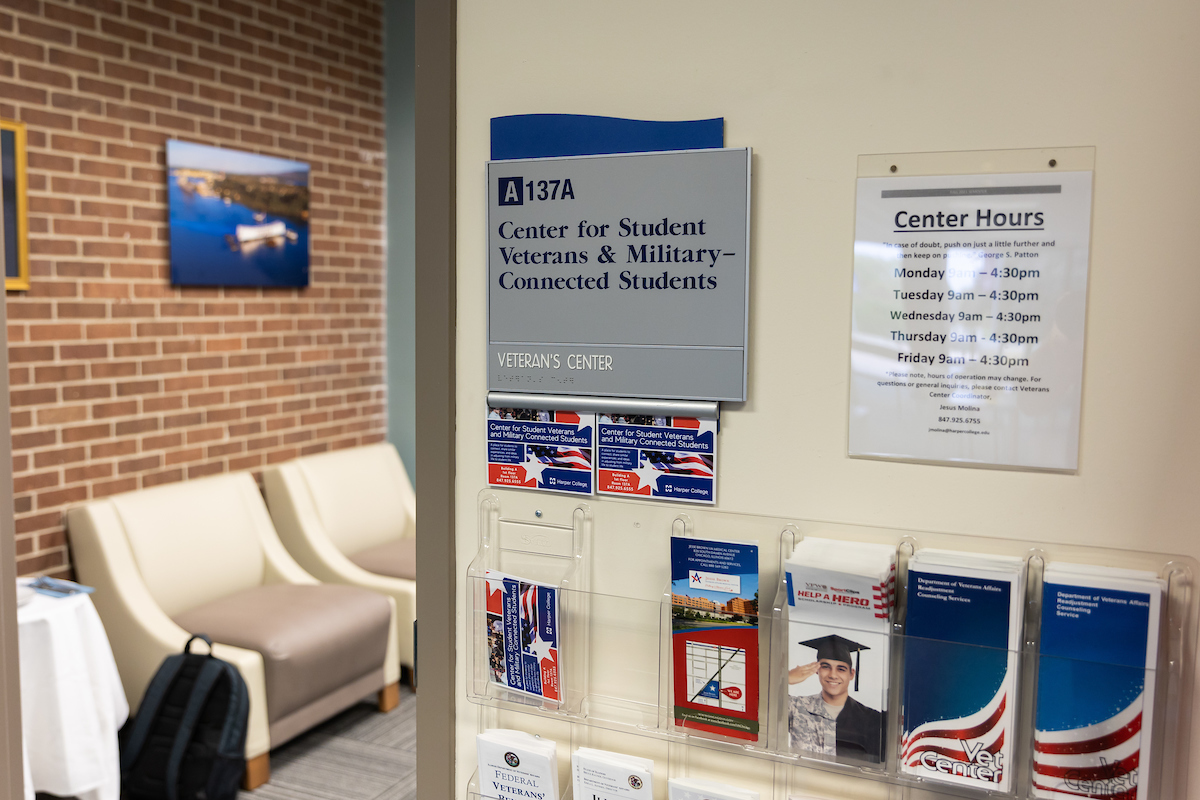 Nicholas Weidmayer has a family legacy of military service. Going back more than a century, members of Nick's family have served in the United States Marine Corps.
"From the enlisted side to the officer side, we've been in every war that America has been involved in, going back a hundred years to World War I," said Nick, who served from 2010-16 and did tours of duty in Afghanistan. "It's kind of what we do: We go to school, join the military, acquire what we need education-wise, get our career and keep moving forward."
As a Harper College student, Nick is also part of a legacy of student veterans on campus. Originally from Texas, Nick, 30, lives in Rolling Meadows and enrolled in Harper's Physical Therapy Assistant program in August. He also began working as a student-employee at the college's Center for Student Veterans and Military-Connected Students.
The center – located in Building A on Harper's Palatine campus – was established in 2017 to foster connections between student veterans and support them in their educational journeys. Open weekdays from 8 a.m. to 4:30 p.m., the center allows veterans and military-connected students to share information, resources and experiences while adjusting from military to student life.
"When in transition, that can be a lonely process and veterans might be isolated," said Jesus Molina, Harper's Veterans Center coordinator, who's also a veteran of the U.S. Marine Corps. "Peer support from others is important and so is having a place where they can ask questions related to the United States Department of Veterans Affairs or their education."
The center offers additional services and resources:
Dedicated lounge with study area, computer and printer
Information about veteran scholarships
Referrals to student resources, services and student life
Referrals to local veteran assistance organizations
Information about Harper's Student Veterans Association (SVA)
Individual student advocacy
VA work study program
Central source of communication to student veterans
Student, academic and career programming
Harper and its Veterans Center also have planned programs for Veterans Day 2021. A virtual event on the holiday (9 a.m. Thursday, November 11) will honor those who served and include conversations with Harper employees and students who are military veterans. Another virtual event at 1 p.m. Tuesday, November 16 will feature Lt. Col. Roman Ortega speaking about mental health as a veteran of the U.S. Army. For more information on both events, visit events.harpercollege.edu.
Veterans' mental health is a subject that resonates with Nick, who sees Harper's Veterans Center as a crucial resource for the college's student-veterans.
"In the military, we are taught to separate ourselves to remove human emotions. It can be hard to deescalate ourselves," Nick said. "The center makes sure that there's a place that veterans belong. We can be accepting and responsive to human emotion. It's a huge tool to allow us to reconnect and become better members of society."
For more information about Harper's Center for Student Veterans and Military-Connected Students, contact Jesus Molina, center coordinator, at jmolina@harpercollege.edu or call 847-925-6755.