Ten Questions with Maria Coons
Ten Questions with Maria Coons

Communications

April 25, 2022

April 25, 2022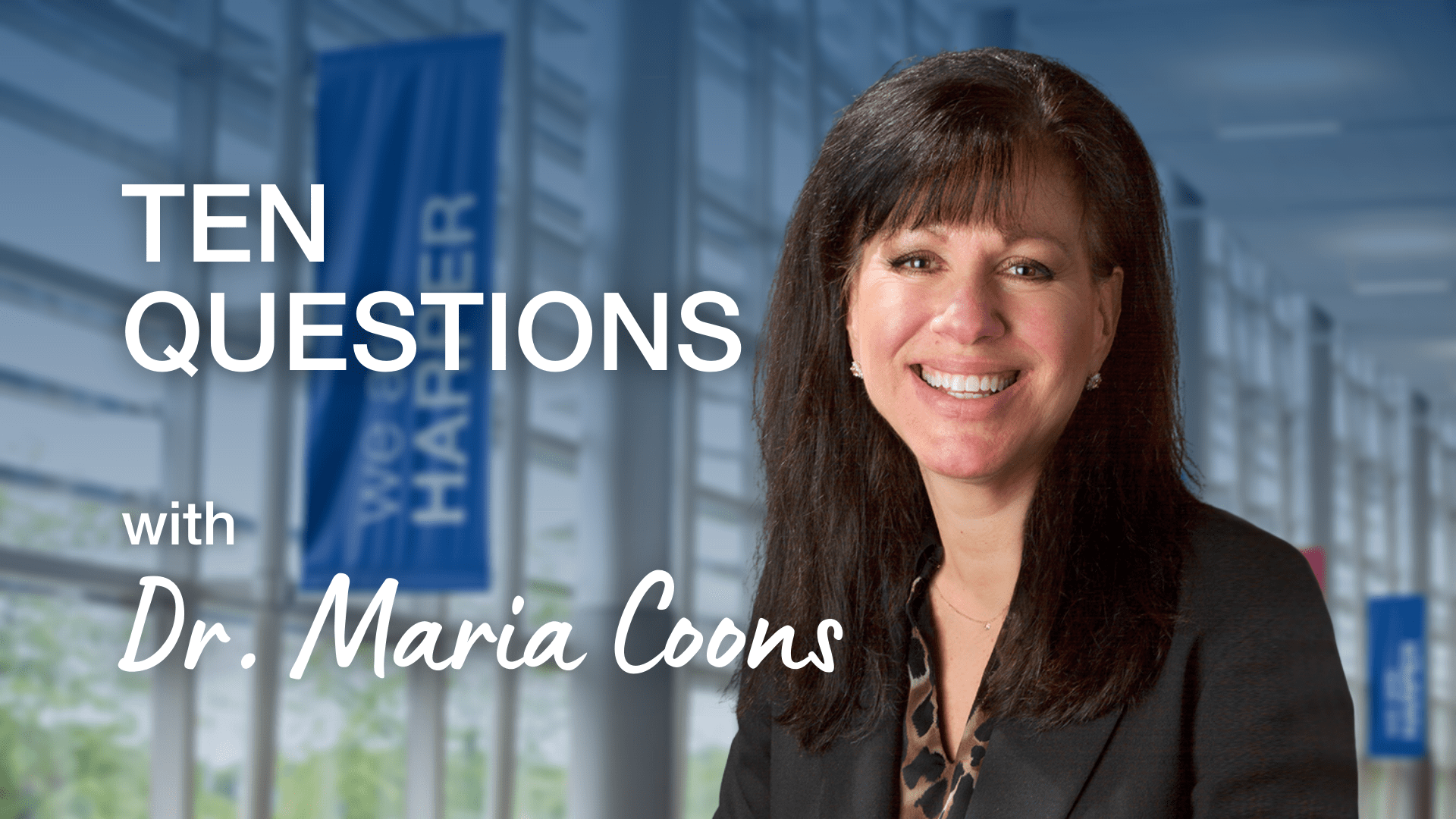 Dr. Maria Coons has seen it all at Harper College. From her early days as an adjunct professor to becoming a full-time faculty member teaching everything from marketing to finance, her love for education was apparent. Her administrative leadership has been incomparable, whether developing the Fast Track program, serving on President Obama's AMP 2.0 operating committee or helping the Harper community navigate a global pandemic as interim provost. No matter how you examine her 30-year tenure at Harper, one thing is for certain: Dr. Coons has made her mark on Harper College every step of the way. Here are Ten Questions with Dr. Maria Coons.
1. Describe your perfect day.
My perfect day would start with sunshine and coffee with my husband. For workdays, there would be little or no traffic on the way in to work, and all my meetings would start and end on time. Each day would end the same way it started, with sunshine and a long walk with my husband. On the weekends, every second would be spent with my grandchildren.
2. Who was your role model growing up?
My parents. My father was a doctor and demonstrated the value of hard work and putting family first; he made house calls for patients too sick to come to the office or without transportation. And my mother always encouraged me and my siblings to strive for more. She always reminded us that education was something that could never be taken away.
3. Best advice you ever received?
Don't be afraid to make a decision. My first boss out of college told me that and I've lived by it ever since. At some point you have enough information and you have to move forward. And when you make that decision, for better or worse, you must own it.
4. You could be best friends with one fictional character, who do you choose and why?
Maximus from "The Gladiator." He exemplified resilience and fought for his country and for what was right.
5. If you could make a documentary on any topic, what would it be?
The impact of technology on education. Technology is pivoting the entire educational stratosphere, so I'd love to examine the wider impact both in and out of the classroom.
6. What is your all-time favorite movie and why?
I am 100% Greek so I have to say "My Big Fat Greek Wedding." When my husband and I went to see this movie in the theater, we brought our son along and he was laughing at every scene because he recognized every character as resembling someone from our extended family. It really exemplifies a big piece of my life.
7. Of which professional achievement are you most proud?
I've been here for so long, so a few come to mind. Helping the college pivot during the COVID-19 crisis as interim provost, all the work that went into getting the referendum passed in 2018 and serving on President Obama's Advanced Manufacturing Partnership AMP 2.0 operating committee are achievements that I am particularly proud of.
8. What do you wonder about?
I wonder about things that can't be explained by science or logic. Did you know tomatoes have more genes than humans?
9. What are you hopeful for?
I'm hopeful for the strengthening and resurgence of the middle class. These days, it seems you're either wealthy or you're struggling, but we have to bring it back to the middle. And that's the beauty of community colleges. Offering degrees and certificates in programs like nursing, accounting, manufacturing, HVAC, law enforcement, fire science, supply chain management and truck driving, we are designed to educate, skill and upskill the middle class. How we tip the scales to get it back to the middle, I don't know, but we have to keep doing what we're doing and do it better. Our country depends on us.
10. What do you love most about Harper College?
I love that Harper College provides opportunities for all students. There is no selection criteria, we take everybody where they're at. If you didn't finish high school, we'll help you finish. If English is your second language, we'll help you learn English. If you want to start at Harper College and finish at a four-year institution, we'll help you transfer. For senior citizens looking to continue their learning journey, we're here for you. Wherever you are in your life or your educational journey, there's something for you at Harper.