Igniting Paths Students Say Scholarship Allowed Them to Pursue Their Dreams
Igniting Paths Students Say Scholarship Allowed Them to Pursue Their Dreams

Harper College News Bureau

April 14, 2022

April 14, 2022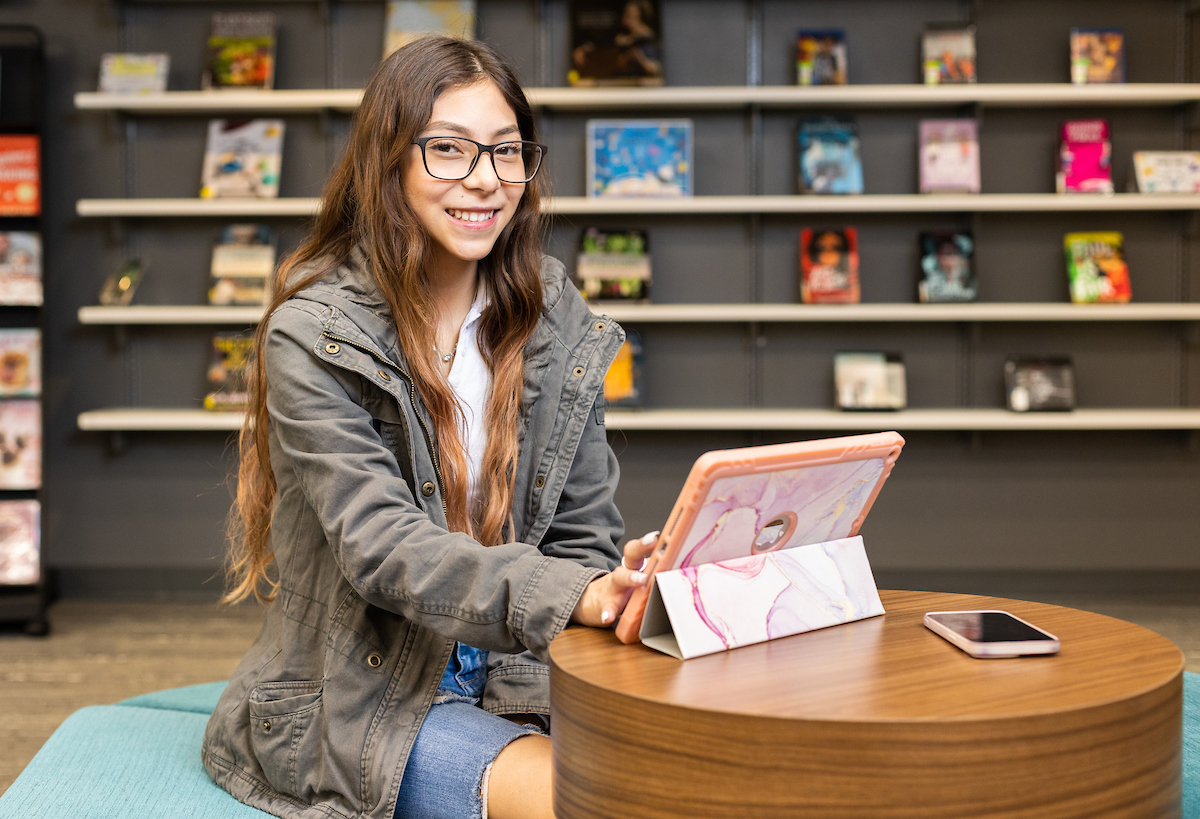 When her little sister was born, Carmen Alonso (pictured above) had an epiphany. She had always been interested in science and the human body, but participating in her younger sister's birth gave her a new perspective on the importance of neonatal nurses.
"I realized that nurses can really change your experience," Carmen said. "Who you are as a caregiver can change a family's whole experience."
In high school at the time, Carmen knew she wanted to study to become a nurse in college. But nothing was going to be easy about that. As an undocumented immigrant (who has lived in the U.S. since she was 2), Carmen isn't eligible for financial aid. As a child of a single mother (with a toddler on her hands), she was unsure if she had the money to be a full-time student.
After enrolling in a couple of classes for Harper College's fall 2021 semester, the Wheeling resident applied for the Igniting Paths to Success Scholarship. Made possible by a donation from philanthropist MacKenzie Scott and funds from the Harper College Educational Foundation, the scholarship is designed to help underserved members of Harper's community by paying for tuition, books and fees. She said she was desperate for any amount of financial assistance.
Her desperation turned to joy when she found out she received the Igniting Paths scholarship. She celebrated with her mom and immediately enrolled in two more classes – realizing her plan of going to college full-time.
"I want to put my all into these classes and, without having to work all the time, I can," said Carmen, 18. "It's weird not to feel stressed about paying for college."
Harper launched Igniting Paths to Success in the summer of 2021, with the goal of helping 1,000 students from the community access and prioritize higher education over the course of two academic years. To continue their eligibility each semester, scholarship recipients must be enrolled in at least six credit hours, meet with their academic advisor, follow a required academic plan and maintain a 2.0 GPA.
Starting with the fall 2021 semester, a variety of community members have been making the most of the opportunity. The Ignite Scholars range from traditional-age students who are the first in their families to enroll in college to older students embarking on new careers to better support their families and fulfill their career goals. And, true to the scholarship's intentions, the majority of Ignite Scholars come from populations that have been traditionally underserved in higher education.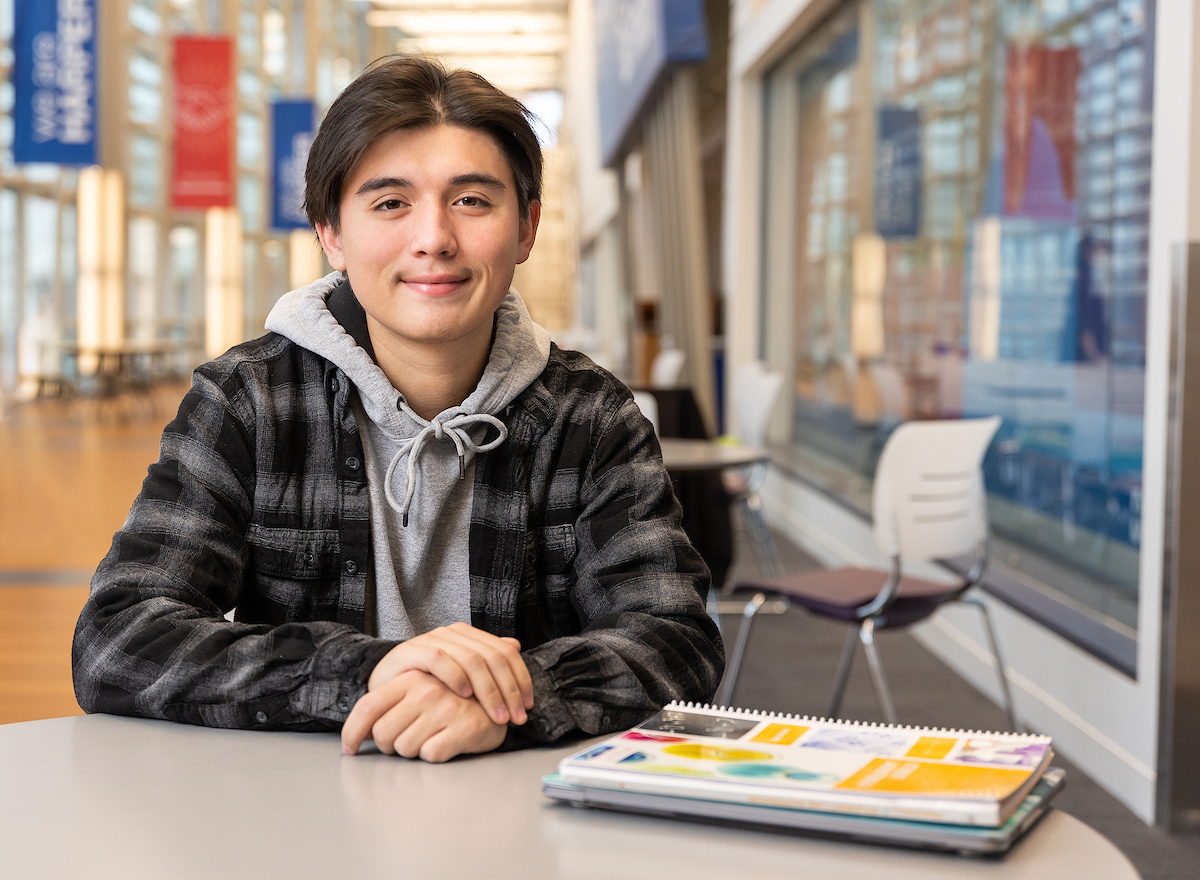 Jorge Monaco (pictured above), of Hanover Park, is the son of Mexican immigrants who emphasized to him the importance of a good education. He spoke about what receiving the Igniting Paths scholarship meant not only to him, but to his whole family.
"They see that their oldest son is in college now and can establish a good life," said Jorge, 19. "I can be a role model for my two younger siblings. They can learn from how I'm doing in college."
From an early age, Jorge was interested in robotics and frequently attended STEM camps. His goal is to become an engineer, with plans for an associate degree at Harper, then transfer to an area university to pursue his bachelor's. His excitement about his future is palpable.
The same goes for Kenia Roper, a 30-year-old mother of two from Schaumburg who works as a caregiver. Because of her talents in that role, she said she has often been given advice to get a degree in the medical field. So, with the help of the Igniting Paths scholarship, she's pursuing a career in surgical technology.
Like many of her fellow Igniting Paths scholars, Kenia appreciates how she's been able to focus on her studies with a financial burden removed. As a parent with plenty of other tasks to juggle, she's noticed how her concentration on her studies has improved this past semester.
"I've been getting A's and B's," Kenia said. "This means I can take classes that I want without being on a payment plan. It has made me feel more confident."
Although in a different phase of his life, Aydan Roberts-Cortez shared a similar perspective. The 18-year-old Arlington Heights resident said that without receiving the Igniting Paths scholarship, he would have had to work two jobs to be able to pay for classes, limiting his time to work on homework.
When he found out that he received the scholarship, he described his reaction as being a mix of "adrenaline and relief," nearly prompting him to cry when he saw the email notification.
"I remember when I saw 'Congrats,' it almost felt like when you go down a roller coaster," Aydan said. "And then I was just thinking of how many extra hours I would have needed to put into work to pay for it – how much time I saved, how much more time I could have for school."
Carmen said that, given the hardships she's faced as a food service employee during the pandemic, it's possible that she might have halted her education without the Igniting Paths scholarship. Instead, it has inspired her to move forward with her dream of becoming a nurse.
"As a student, honestly, it motivates me to give it my all," she said. "It's the motivation I needed to continue."