American Sign Language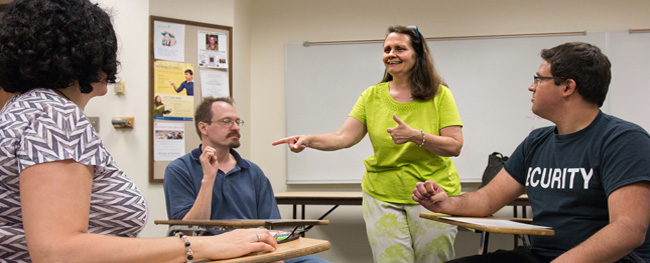 American Sign Language Studies
American Sign Language (ASL) is a unique, visual-spatial language that provides the foundation for American Deaf culture. ASL does not depend on the spoken English word. It has its own distinct lexicon, syntax and grammar. Scholars, linguists, language instructors, and ASL users recognize that ASL is a bona fide language.
Harper College offers five levels of ASL courses as well as separate courses in fingerspelling and numbers, Deaf culture, and ASL literature. These courses begin with the prefix SGN. All coursework is designed to offer students meaningful, interactive language-learning experiences.
Transfer Options
SGN Courses Satisfying College Requirements
SGN courses may be used in the AAS or AGS degrees to meet group 4 Humanities requirements. Please check with an academic advisor for details.
SGN 210 American Sign Language: Cultural Perspective fulfills the Humanities requirement and/or the World Culture and Diversity requirement.
Explore the ASL site