Jacob and Iris Wolf Endowed Sign Language Interpreting Scholarship
Jacob and Iris Wolf Endowed Sign Language Interpreting Scholarship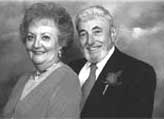 The Jacob and Iris Wolf Sign Language Interpreting Scholarship is available to Harper College students enrolled in interpreting coursework and allows deserving individuals to receive financial support as they pursue their educational goals.
The scholarship was established in 1997 by Dr. Harvey Wolf to commemorate his mother, Iris and late father, Jacob. Mr. Wolf was a compassionate, scholarly attorney in Chicago for forty-six years. He often helped individuals who could not afford legal service, and he had a special place for the "Underdog." This scholarship is a living testament to Jacob Wolf's commitment to individuals faced with life's challenges, and to Iris Wolf's belief that one must always give back for the good fortune received in life.
Jacob and Iris Wolf's son, Dr. Harvey Wolf, is a psychologist who works with terminally ill patients, some of whom are Deaf. In his earlier years he worked at Harper College as a sign language interpreter and was awarded certification from the Registry of Interpreters for the Deaf. Dr. Wolf later returned to Harper to take classes in the Sign Language Interpreting Program.
The Jacob and Iris Wolf Endowed Sign Language Interpreting Scholarship highlights the outstanding Sign Language Interpreting Program at Harper College and the College's decades-long commitment to providing education and access to deserving students.