Summer Travel!

Brian Trzop

June 8, 2023

June 8, 2023
It's summer time, and with that comes summer travel! With so many options of places to go, how do you decide which destination is right for you? Well, reader, I hope this blog post will help you in that endeavor. In this post, I will keep the focal point on a couple of destinations for travel in the Midwest. Also, I will highlight some of the book resources on the topic of travel inspiration that are available at the Harper College Library.
Travel Destination #1: Holland, Michigan
The first place that I will highlight is Holland, Michigan, which is about a 3-hour drive from Harper College. Well worth the trip, Holland is known for its quaint, shop-filled downtown area, as well as its many tulips that line much of the Michigan town. The tulips bloom in mid-May, but can be seen in the heart of the summer as well. Below are some photos of the tulips, which I took while I was in Holland a little while back: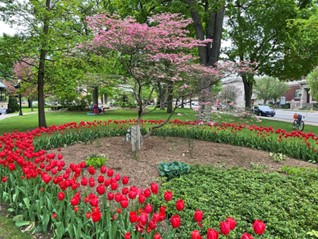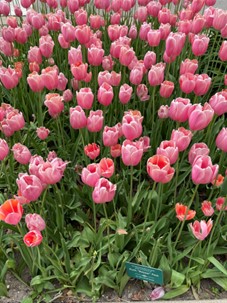 Another worthwhile spot in Holland to visit when you get hungry is the pizza restaurant right in the downtown area, named Crust 54. Known for its selection of Chicago-style pizzas, I have to say that it is one of the best spots for this type of pizza outside of the Chicagoland area. Yum!
Travel Destination #2: Door County, Wisconsin
For destination #2, one of the gems of the Midwest cannot be overlooked: Door County, Wisconsin! This county in northeast Wisconsin (about a 4-hour drive from Harper College) has many quaint, bayside towns alongside Green Bay (the body of water). Among the most popular are Sister Bay, Ephraim, and Fish Creek. Perfect for shopping and general walking alongside the water, Sister Bay is the farthest north of the three mentioned towns. Ephraim is a more hilly locale than Sister Bay, but still lovely to visit. Below is a photo overlooking the bay from the town of Ephraim: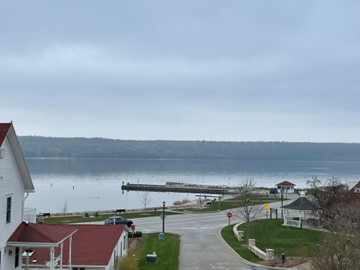 Another place to check out while in Ephraim, Door County, is the new coffee shop that was just opened up there, creatively named Sip. Here, I enjoyed one of the best raspberry lattes that I have ever tasted (no, seriously)! Full of bright colors and plenty of seating as well, Sip is a definite go-to spot for coffee and a quick bite to eat while in the Ephraim area. The website for Sip is https://www.sipdoorcounty.com. Fish Creek is conveniently located a short drive from both Sister Bay and Ephraim. The downtown area has shops and small cafes and restaurants to suit many different styles and tastes. It's definitely a small town, charming, and with a walkable downtown area. I highly recommend it! Here is a link to explore shopping in Fish Creek before you head out: https://visitfishcreek.com/shop/.
The books in the photo above, all great for summer travel inspiration, describe places to visit and things to do. Some of the books cover travel in Chicagoland, others national parks in a variety of states, and still others scenic drives to embark on during the summer or any other season. These books are currently on display for you on the main floor of the library, next to The Desk: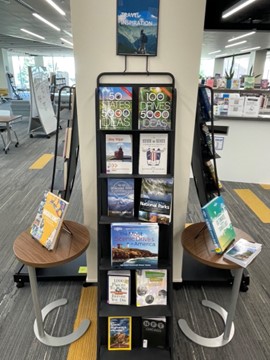 The National Geographic book, entitled

50 States, 5000 Ideas: Where to go, What to see, What to do.
The National Geographic book, entitled

100 Drives, 5000 Ideas: Where to go, When to go, What to see, What to do

.

Elisa Drake's book

Day Trips from Chicago: Getaway Ideas for the Local Traveler

NFT: Not for Tourists Guide to Chicago, 2023 edition

State by State: A Panoramic Portrait of America (50 Writers in 50 States)

Valerie Pontiff's book

All 63 US National Parks: The Complete Travel Guide
The National Geographic book, entitled

Complete National Parks of the United States

Chicago Neighborhoods and Suburbs: A Historical Guide

The Reader's Digest book, entitled

The Most Scenic Drives in America: 120 Spectacular Road Trips

Patricia Schultz's book, entitled

1,000 Places to See Before You Die

The National Geographic book, entitled

Guide to Scenic Highways & Byways: Fifth Edition
Whichever place or places you decide to go for summer travel, remember to relax, enjoy, bring along some books from the Harper library – and don't forget the sunscreen! Bon voyage!