5 Years, 4 Promotions, 2 Certificates, 1 Degree and Counting
5 Years, 4 Promotions, 2 Certificates, 1 Degree and Counting

Communications

October 8, 2018

October 8, 2018
This 34-Year-Old Harper College Fast Track Graduate Is on Her Way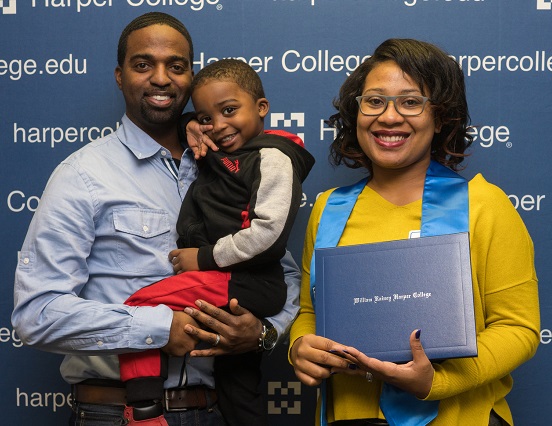 If you were a temporary file clerk sitting in the lunch room with a bunch of corporate executives, would you have the nerve to point out that a piece of the company's financials just wasn't adding up?
Noel Dickerson did.
During the day, Noel's job was to file invoices – lots of invoices. At night, she was a student enrolled in Harper College's Fast Track program pursuing her Associate in Applied Science — Business Administration in Management.
In one of her classes, her instructor gave an assignment about profits and losses and encouraged the students to use real world situations as part of their analyses. Noel used what she had on hand – the company's invoices she was filing. In working her way through the assignment, Noel realized that the numbers weren't adding up. The difference between the Cost of Goods Sold and the amount billed to their e-commerce client was too low. So, at lunch one day, she mentioned the disparity to the vice president.
He asked her pointedly, "How do you know this?" Noel explained that she discovered it as part of her school assignment and went on to detail what she uncovered. The VP was impressed by Noel's initiative and thoughtful analysis and mentioned it to her director. This recognition — along with Noel's hustle and job performance — led to her first promotion at the company, the first in a long line of promotions. In the past five years, Noel has received four promotions, going from temporary file clerk to e-commerce lead with 14 people on her team. Along the way, she completed two business certificates and an associate degree through the Fast Track program at Harper.
"My studies have taught me to look at how the pieces fit in the big picture," said Noel. "Now, thanks to my marketing and finance classes, when I go into meetings with the VPs and the directors, I can talk about what companies like Walmart are doing and ask how we are going to position ourselves to be competitive."
In the Spring and Summer of 2018, 131 Fast Track students earned a total of 184 degrees and/or certificates. More than 60% of the Fast Track graduates were on the Dean's List and over 50% made the President's List.
Degrees and Certificates awarded in Spring/ Summer of 2018
17 Associate Degrees in Applied Science
167 Certificates
Business Management: 26
Human Resource Management: 17
Health Information Technology Medical Coding: 27
Inventory/Production Control: 37
Logistics: 12
Procurement: 25
Supply Chain Management: 23
Harper's Fast Track program is designed for busy working adults like Noel who know a college degree is important in today's economy. Fast Track is an accelerated program that uses a cohort model and blends classroom and online learning. Most classes are offered in five to eight-week sessions with a predictable, evening class time. The cohort format encourages the students to develop strong bonds that help support their progress through the program. The faculty are specially trained and attuned to the needs of an adult student. Kathy Foldvary, a professor who has been teaching Fast Track students since its inception, enjoys her adult students. "They are highly engaged and bring a great deal of experience and knowledge into the classroom. These students challenge me, as their teacher, to provide them with ways to make the material valuable," noted Kathy. "My goal is to help my students succeed in their position and their life goals."
"Harper has some of the best instructors. They are so accessible and knowledgeable," noted Noel. "The culture at Harper fuels my educational spirit."
The last five years have been filled with change for Noel. She got married, had a baby, bought a house, earned her associate degree and has moved up in her career. But that's not where her story ends. Noel is pursuing her bachelor's degree in business administration and a career as an e-commerce business analyst.
"I am still grinding it out, still moving forward. E-commerce is rapidly evolving, and I need to keep pace," explained Noel. Currently, she is taking classes three nights a week - one night at Harper's University Center for her bachelor's program and the other nights she is working on her digital badge in project management.
Fast Track is currently offered at Harper's satellite campus, the Harper Professional Center in Schaumburg. Future plans call for a new building on Harper's main campus that would be home to the Fast Track program, bringing students closer to resources and support services. The building would also serve as a hub for regional economic development by housing the University Center, Small Business Development Center, customized business training and other entrepreneurial initiatives.
The proposed building is part of a larger community-driven plan for Harper's future. Voters will consider the referendum question — which wouldn't raise taxes — on November 6. To learn more, visit harpercollege.edu/strongfuture.