Free Massage Therapy Intro Class to Start a Rewarding Career
Free Massage Therapy Intro Class to Start a Rewarding Career

Harper College

July 20, 2017

July 20, 2017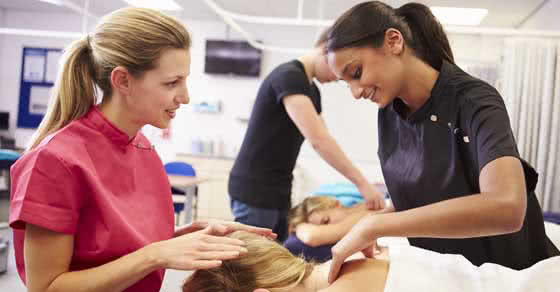 If your student is interested in pursuing a career in Massage Therapy, a career that is projected to grow 22 percent from 2014 to 2024, Harper College is now offering a free introductory course. MTP 100: Introduction to Massage Therapy, the free one-credit hour intro class can be completed in under a week during Summer 2017. Students will learn about massage therapy career options, benefits, modalities, and anatomy, as well as receive hands on experience.
With this free introductory course completed, your student can then advance within our comprehensive program that exceeds state requirements. Below are the benefits of the Massage Therapist program at Harper College:
Combining a variety of healing modalities with focus in both relaxation and rehabilitative massage, our program provides a diverse education that increases potential for working in different environments.
Excellent, experienced instructors along with the combination of classroom and clinic experience allow the student to prepare for real life situations.
Classes are small to allow students individual attention. Generally, there are less than 20 students per class.
The program can be completed in 10 months.
The state of Illinois requires that massage therapists successfully complete a minimum of 600 hours of education including hands-on training from an approved provider and then pass the national exam. Harper provides the training and the national exam is administered by the Massage Board Licensing Exam (MBLEx).
See complete MTP 100 course details and schedule options and apply today.