B96 Jingle Bash Ticket Facebook Giveaway
B96 Jingle Bash Ticket Facebook Giveaway

Harper College

November 30, 2018

November 30, 2018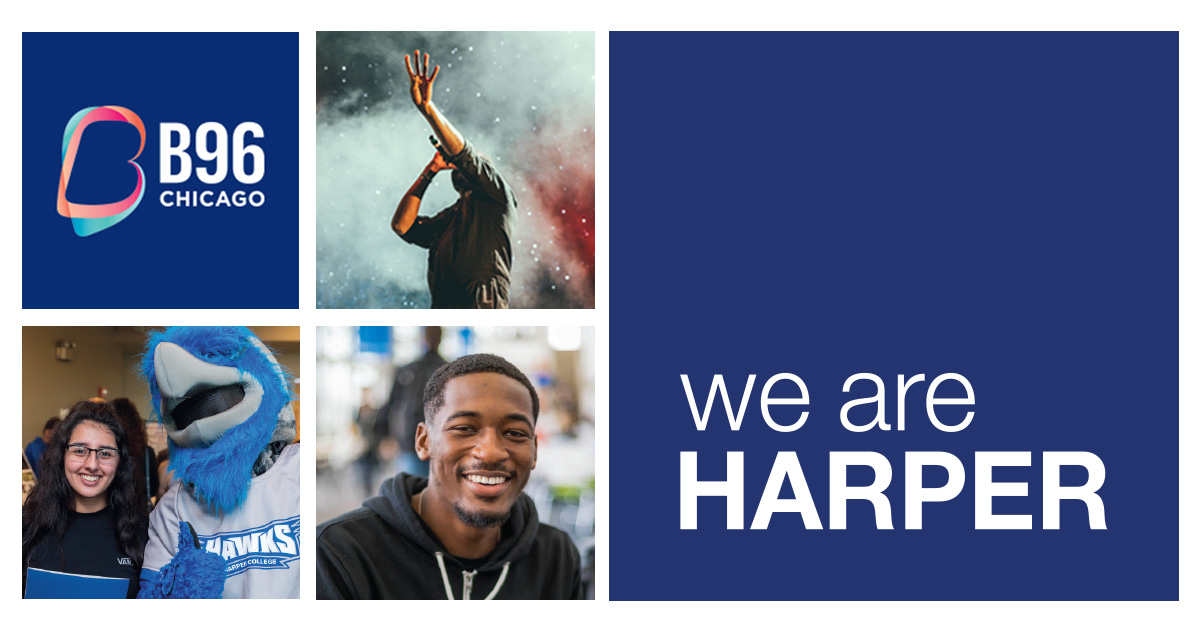 To celebrate the many individuals who make up Harper College, we are offering you a chance to win TWO B96 Jingle Bash tickets for Saturday, December 8 at the Allstate Arena!
To enter, visit our Facebook page and comment on our Jingle Bash Giveaway post with one motivational word that describes you between now and Wednesday, December 5 by 3 p.m. CST. We will randomly select and announce a winner on that day by 4 p.m. CST and notify them via Facebook Messenger.
---
Official Jingle Bash Ticket Giveaway

S

weepstakes Rules and

E

ligibility
Eligibility: Harper College Jingle Bash Ticket Giveaway ("Sweepstakes") is open persons at least eighteen (18) years of age, and who have a valid Facebook account at the time of entry.
As applicable, Harper College employees, employees of the Sponsors and their affiliates are not eligible.
To enter, an entrant must be a registered user of Facebook. If an entrant is not a registered user of this site, the entrant must visit www.facebook.com to register for free. Registration for and use of the Facebook platform is subject to its terms and conditions and Sweepstakes entities have no responsibility with respect to such registration or use. This Sweepstakes is in no way sponsored, endorsed or administered by, or associated with, Facebook. You understand that you are providing your information to Sweepstakes Entities, and not to Facebook.
To enter from Facebook, visit https://www.facebook.com/harpercollege, click on the promotion photo and follow the instructions to enter at the time of entry.
Sponsor: Harper College – 1200 Algonquin Rd, Palatine, IL 60067
Promotion Period: Promotion begins at 10 a.m. on Tuesday, December 4, 2018 and ends at 2 p.m. on Wednesday, December 5, 2018, when all entries must be received ("Promotion Period").
Prize: Two (2) tickets to the 2018 WBBM-FM B96 Pepsi Jingle Bash at the Allstate Arena in Rosemont, Illinois on Saturday December 8, 2018. Tickets are subject to program availability, venue capacity and age restrictions. Winner and guest must abide by all venue policies. Parking, travel and accommodations not included and are the sole responsibility of winner and guest. WBBM-FM B96 reserves the right to revoke full or partial prize from any winner or winner's guest who it and/or venue personnel deem may, in their sole discretion, be intoxicated, be a safety risk, have violated any venue policy or law, and/or may bring Live WBBM-FM B96 into disrepute. Resale of tickets is prohibited. Approximate Retail Value of the grand prize is: One hundred and forty dollars and zero cents ($140.00).
How to enter: Participants on Facebook can click on the giveaway promotion image posted to Harper College's Facebook page, where they can comment on the image for a chance to win tickets.
No purchase necessary. No purchase necessary to enter or win the sweepstakes. Further, a purchase (including, without limitation, enrollment or the purchase of any product, good or service sold by Harper College) will not improve a participant's chances of winning a prize in the sweepstakes.
How we will select the winner: An online random number generator will be used to select a random number. That number will determine which Facebook reaction on the photo – from first comment to last comment by the closing date of the giveaway – will be chosen to win two tickets. The winner will be notified through Facebook by sending a direct message.
Notification and selection of the winner: No later than 4:00 p.m. on Wednesday, December 5, 2018. We will notify the winner by sending a direct message to their Facebook account. We will request an email address to verify and deliver the prize to the winner.
Odds of Winning and Collecting Prizes: The odds of winning each prize is dependent entirely on the number of entries received immediately prior to the drawing.
The winner shall collect his/her prize from Harper College Palatine campus, Marketing Services, Building S at 1200 Algonquin Rd, Palatine, IL 60067. Because all prizes must be collected in person from the Harper College Palatine campus, Marketing Services, Building S, there are no shipping or handling fees or charges associated with collecting the prize. The prize must be collected between 9:00 a.m. and 3:00 p.m. on Thursday, December 6, 2018.
General rules: Limit one (1) entry per person/email address/Facebook ID for the duration of the promotion. Entries submitted from any person/email address/Facebook ID in excess of the stated limitation will be void. All entries become the property of Administrator and will not be returned or verified. Entries generated by script, macro, or other automated or mechanical means or that subverts the entry process will be void.
WBBM-FM B96 is not a sponsor of the promotion and is in no way responsible for the administration of the promotion or the verification of eligible entrants or winners. All inquiries regarding the promotion should be directed to the Harper College marketing department and not to WBBM-FM B96.
All entrants release Facebook, WBBM-FM B96, Harper College and each of their respective parents, affiliates, subsidiaries, officers, directors, partners, equity holders, agents, employees, and all others associated with the development and execution of this Sweepstakes (collectively, the "Released Parties"), from any and all liability with respect to, or in any way arising from, this Sweepstakes and/or acceptance or use of the prize, including liability for personal injury, damages, death or monetary loss. Administrator assumes no responsibility for any injury, loss or damage to entrants' or to any other person's computer relating to, or resulting from, entering or downloading any information or software in connection with this Sweepstakes.