How to Fall in Love With Fire
How to Fall in Love With Fire

Career and Technical Programs

May 11, 2015

May 11, 2015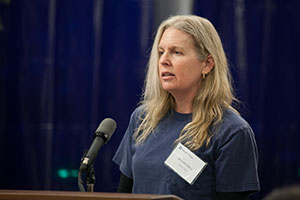 In Her Own Words: Michelle Mabry shares her experiences studying welding and maintenance technology at Harper College.
Welding is not commonly associated with women. This never dampened my desire. I only think of my good fortune and how much I like fire anyway. There's a lot to know about welding. I'm still learning.
When you get along with fire, regard it with reverence, want to be near--it's good to be a welder. You may visit metal at the hardware store, trying not to buy it. There is the copper, preening all along its pipe. There is steel, steady and true. There is brass, like butter; and aluminum, light and unforgiving. The metals challenge you when you weld. With practice, they begin to behave and you may find favor. Be prepared to amaze yourself.
Anyone debating entering Harper's welding program (or any other field of study), I encourage to explore. Ask questions. Our instructors and your fellow students are a private encyclopedia. Get to know the rest of the campus too. There's so much out there.
My drive to scout the maze of disciplines, ideas and people that catch my eye is a little unhinged--but never less than wonderful. The result of thinking incessantly makes for a deep web of light. There's always something else to see.