Many Paths Lead Honors Students to Zimbabwe
Many Paths Lead Honors Students to Zimbabwe

Marketing Services

March 9, 2016

March 9, 2016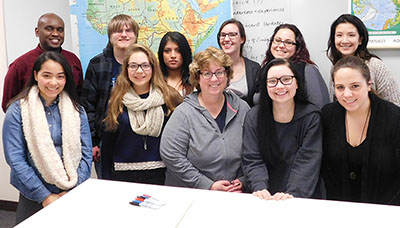 Mukila Maitha, assistant professor in geography (back row, left), will accompany a group of Harper College Honors students on a 10-day spring-break trip to Zimbabwe.
A passion to join the Peace Corps, growing up in Mexico, a high school teacher's advice, a class on East African literature - these different paths helped lead Harper Honors students to a 10-day study abroad trip to Zimbabwe scheduled during spring break.
Biology major Jennifer Stanton is thinking about joining the Peace Corps after she earns her bachelor's degree. "This trip will expose me to different cultures and give me experience traveling abroad," she said.
Montserrat Duarte grew up in Mexico. After moving to the US, enrolling in college, and starting her own family, she says the trip provides an opportunity to compare the life, people and cultures of three countries.
"My high school teacher said the most important thing I could do for myself was to get a passport," said Prospect High School graduate and psychology major Monica Mazurek.
Rosie Simoes became interested in visiting Africa after taking a 21st century issues class on the region while attending Barrington High School. "It's great to have this opportunity at Harper. Many people think that you have to attend a four-year school to study abroad," she added.
Amy Springer, a single mother, views the experience as a way to enrich her own education, which she can share someday with her two-and-a-half-year-old son.
Linda Conner became interested in the trip after taking a course in East African literature taught by associate professor Judi Nitsch. Nitsch developed the course after returning from a Harper faculty field study to Africa.
"I belong to Phi Theta Kappa and joined Honors in part so I could take this trip," Conner added.
During the trip, students will go on guided visits to sites of environmental and historical importance around the capital city of Harare and the western part of the country, said Mukila Maitha, assistant professor in geography and coordinator of the Geographic Information Systems program. Maitha will accompany the students to Zimbabwe.
Stops will include Victoria Falls (UNESCO World Heritage Site), Hwange National Park, and the Domboshava Petroglyphs. Local experts will help students interpret their experiences.